UPDATED OCTOBER 2020: Because I travel without a fixed itinerary and on a strict budget, I usually move around countries/continents by bus. But as I began making plans to visit France, friends warned me that this would not be an option, as France does not have a well established bus system. Everyone insisted that the only way I could visit some of the places on my wish list would be to rent a car, but after my stressful experience learning how to drive in roundabouts in Spain, I dismissed this idea. Instead, I trusted that I would somehow figure out the best manner of getting around France. In the end I was able to visit everything on my list of must-see landmarks in France, but I had to figure all this out after arriving, which required many hours that would have been better used sightseeing. I kept meticulous notes, which I've detailed below in order to help others who plan to travel around France.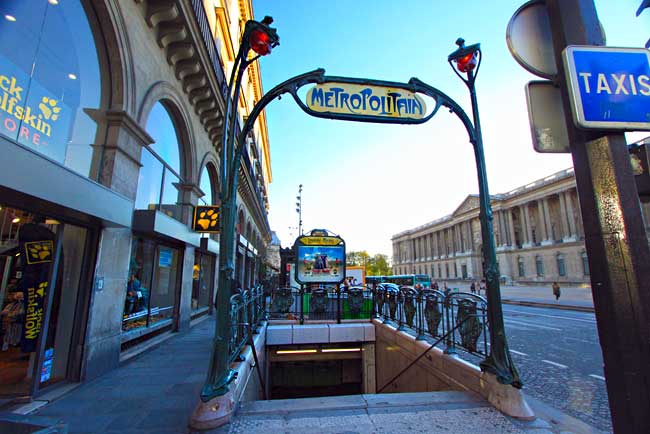 Getting Around Paris – How to Use the Metro System (City Subway):
The map below is widely available all over Paris and posted in every metro station, both at the upper level, in the tunnels/platforms, and inside the metro cars. First, find the name of the station to which you will be traveling. Note the number and color of the line, as well as the name of the station at the end of the line. Once inside the Metro, simply follow the color and number coded signs to the correct platform. If you must change to a connecting line (very likely), keep in mind that you will need to note the name of the terminal station on each line. So for instance, if I was at the Châtelet station (center of the map below, next to the River Seine) and wanted to get to the Arc du Triomphe, which is at Charles de Gaulle station to the west, I would descend into the Châtelet station and follow the signs for line seven (pink) with a final destination of La Corneuve. I would disembark at Palais Royal-Musée du Louvre and follow the signs to line one (gold), with a final destination of Esplanade de La Défense.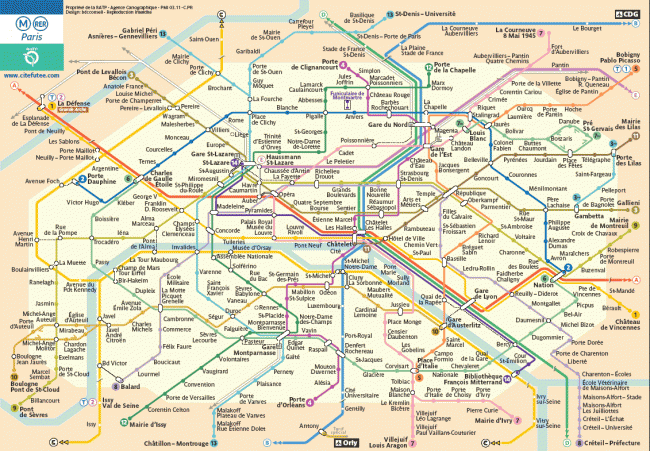 Tickets are €1.90 (Euro) each (about $2.50 USD) and can be used for a single Metro ride within the greater Paris metropolitan area, regardless of how many changes you make to connecting trains. Tickets can be purchased at any station at the automatic machines, which accept coins or bills. The touch screen will prompt for English to begin. The final step is to press the button labeled "verify." The coin slot/bill tray will not open until you do so. Many stations also have manned sales windows where you can buy tickets and get Metro maps. If you will be in Paris for any length of time, consider buying a book of 10 tickets (a "carnet de dix"). At €12.50 ($16.70 USD) for ten it much cheaper and there is no need to wait in line to buy a ticket.
Feed your ticket through the slot on the front of the entry gate (look for a gate with a green  LED "X" – a red "X" means the gate is closed). The ticket will pop out of the top of the machine. Retrieve it, proceed through the metal carousel and push the metal door open to pass to the other side (these are sometimes quite heavy, so push hard). Keep your validated ticket with you during your ride as Metro officials often man the tunnels and require you show your ticket.
Most stations have overhead LED displays displaying how many minutes remain until the arrival of the next train (usually no more than a 10 minute wait, but I rarely waited more than three minutes). When the train arrives, doors do not open automatically. Likely, departing passengers will open the door first, but if no one is getting off of the car you wish to board you will need to open the doors. There are two different types of opening devices; either press the large round button, or rotate the metal handle upward. Boarding passengers are expected to allow departing passengers to get off before trying to board.
Inside the cars, announcements are made for every station. Though they are in French, if you listen carefully and refer to the maps posted inside the cars, you'll find it easy to know where you are at all times. Some trains have maps with LED lights that indicate the arrival station as well. When trains are crowded it is considered improper etiquette to use the pull-down seats next to the doors. Be alert for pickpockets when riding the Metro; always wear backpacks on the front of your body and carry purses or bags bandolier style. Upon disembarking, you will again need to open the doors manually and in most stations, you will need to feed your ticket into the turnstile to exit.
Metro hours are 5:30 a.m. to 12:40 a.m., Sunday through Thursday and 5:30 a.m. to 1:40 a.m. on Fridays, Saturdays and days before a holiday.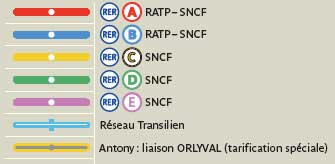 The Metro in Paris is old and has been built over many years, resulting in a maze of tunnels and platforms that are layered, one over the other, at different depths. It is truly fascinating how they all connect to take passengers to every part of the city and worth noting that there are a number of stations that are major hubs. On the Metro lines (again, all numbered lines on the above map), the biggest hubs is Châtelet, however there are also major hubs at all train stations. This is especially convenient should you want to do a walking tour of Paris by night. Passengers can also transfer between the Metro and RER, a wholly underground rapid transit system serving both the city and suburbs. On the above map, RER lines (Réseau Express Régional, "Regional Express Network") are shown in thicker colored lines labeled A, B, C, D and E. Finally, the "hollow" lines indicate train lines that carry passengers to destinations around the rest of France.
Getting To/From the Airports in Paris:
There are two airports in Paris, Charles de Gaulle and Orly. CDG is located 16 miles northeast of Paris, while Orly is located about 8 miles south of the city.
The two best options for getting into the city from Charles de Gaulle Airport are the Roissybus or the RER rapid transit system. The Roissybus stops at all three terminals (follow the signs, which are liberally posted). Buses run every 15 minutes between the hours of 5:45 a.m. and 8 p.m., every 20 minutes between 8 and 10 p.m., and every 30 minutes between 10 and 11 p.m. The trip takes 45-60 minutes, depending on traffic and costs €10 (about $13.35 USD). Buy your ticket ahead of time at the automatic ticket machine inside the terminal, next to the door where the bus stops. The bus will drop you off in the center of Paris, just around the corner from the Opéra Metro station.
Alternatively, take the RER "B" line into the city. Trains run every 10-15 minutes between 4:56 a.m. and 11:56 p.m., however construction on the line (through June 7, 2013), sometimes delays trains on weekdays. The fare is €9.10 (about $12.15 USD). Somewhat confusingly, the two RER train stations at Charles de Gaulle Airport are named "Aéroport Charles de Gaulle 1″, which is located near Terminal 3 in the Roissypole building, and "Aéroport Charles de Gaulle 2 – TGV", located between Terminal 2E and 2C. But as with Roissybus, the signage is liberal and easy to follow. If you are landing at Terminal 1, take the shuttle train called CDGVAL to Terminal 3/Roissypole to connect with the RER train.
If arriving at Orly Airport, take the free Orlyval shuttle, which connects the airport terminals with line "B" of the RER, which runs every 20 minutes and costs €8.70 (about $11.60 USD). Once on the RER, time to the city center is about 25 minutes.
Getting Around France Sometimes Requires Transferring Between CDG and Orly Airports:
Line "B" of the RER connects Charles de Gaulle and Orly airports, though you will have to take the free Orlyval shuttle from the RER station to Orly.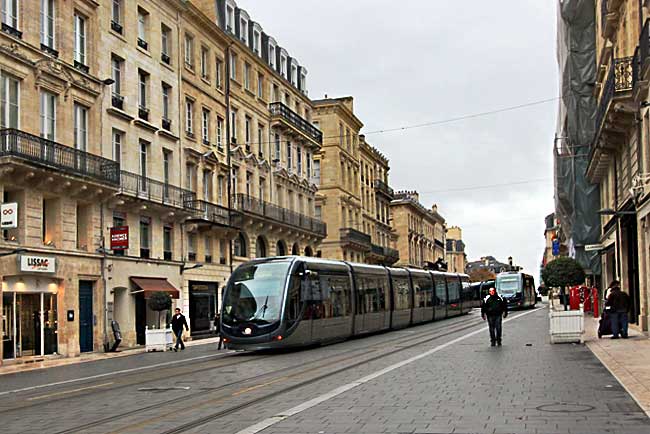 Trams (Trolleys) In Larger French Cities:
Many of the French cities I visited outside of Paris also had trams, a form of electric-powered light rail that runs aside or down the middle of city streets. Generally, these trams serve the main tourist areas or provide transport between the train station and city center. They are inexpensive and if you purchase ten trips rather than a single ride, the price goes down even more. Tickets are sold at vending machines located at each stop.
Getting Around France by Train:
The Paris Metro system connects with all train stations, so getting around France by train is also quite easy. The station from which you depart will depend upon your final destination:
Gare St. Lazare: Regular trains to west and southwestern Paris suburbs, as well as Normandy
Gare de Lyon: Regular trains to southeastern Paris suburbs, southeastern France and Languedoc-Roussillon; TGV (high speed trains) to southeastern France, Rhône-Alpes, Méditerranée, Switzerland and Italy.
Gare de Bercy: TER to Burgundy and regular trains to Italy
Gare de l'Est: Regular trains to eastern Paris suburbs, regular trains and TGV high-speed trains to eastern France, Germany and Luxembourg City
Gare du Nord: Regular trains to northern Paris suburbs northern France; LGV Nord to Lille; Thalys to Belgium, the Netherlands, and Germany; and Eurostar to London
Gare d'Austerlitz: Regular trains to central France, Toulouse and the Pyrenees; Elipsos trains to Barcelona
Gare Montparnasse: Regular trains to western Paris suburbs, western and southwestern France; TGV Ouest and LGV Atlantique; Elipsos trains to Madrid
Signage in train stations is not as well done as the Metro, but a few tips should set you on the right course. For trains serving Paris suburbs, such as Versailles, Chartres or Vernon (the station for Monet's Gardens at Giverny), follow the signs labeled Ile de France. The price of a ticket on these trains also includes one Metro ride, so it is best to buy a round trip ticket ahead of time, as you will be able to use it in the Metro on the way to the train station, and for the Metro ride back to your hotel upon returning. You can purchase tickets for Ile de France in any of the train stations listed above, but be sure to check to make sure the train you choose will stop at your destination, as many are direct or express trains that bypass many stations.
Tickets for suburban destinations are not train specific; you may hop on the next one that is departing. Again, the same etiquette applies for the folding seats next to the doors; when the trains are full, don't use them. Unfortunately, the stops on these trains are not announced and the maps are not as readily posted in the stations, probably because they are used mostly by Parisians going to and from work. However you can ask for a map at any ticket counter and maps are posted inside the trains, above every door.
Whether riding a suburban train or one bound for destinations outside Paris, refer to the overhead LED monitors for departure time, final destination, stations served, and the platform at which the train will arrive. The platform is generally not assigned until 20 minutes prior to departure and the moment it is displayed you may proceed to your platform and board the train. Passengers are expected to be aboard no less than two minutes prior to departure time.
Intercity trains bound for destinations across France and beyond are labeled Grand Lignes. These can be local trains with many stops or express/direct trains, including but not limited to Eurostar, TER, Intercities, Elipsos, or the high-speed TGV trains. All tickets purchased for these trains have a specific departure time. You can purchase tickets for Grand Lignes in any of the train stations listed above or online here. Once at the station, refer to the overhead LED monitors and board as soon as the platform is displayed. Check the numbers on the cars next to the doors – 1 for first class and 2 for second class. Unless your ticket has a seat number, second class is usually open seating. Large overhead luggage racks easily accommodate a 24-26 inch suitcase and if you board early enough you can grab a spot with a small table that is shared by passengers in the facing seats. All announcements are made in French and there are no maps displayed in the long distance trains, however you will know when to get ready for your stop by the arrival time shown in your ticket.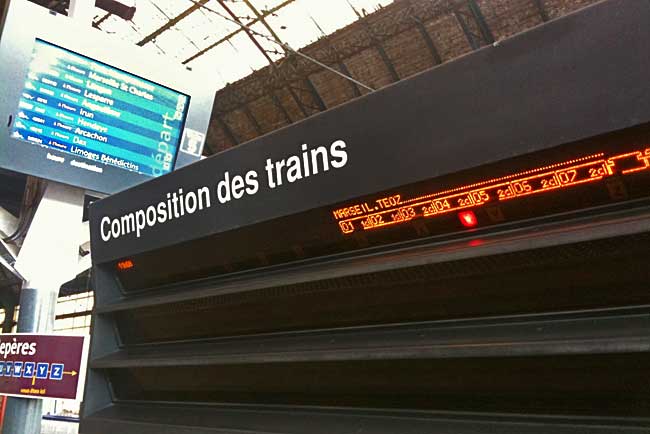 TGV is France's high-speed train, which travels between select destinations within the country and to major cities in adjacent countries. Though much more expensive than regular trains, the saving in time is significant. I rode the TGV between Bordeaux and Marseilles, which took half the time of a regular train. The boarding process for TVG is slightly different. Tickets indicate a boarding zone for each passenger and LED displays labeled "Composition des trains" in the center of the platform provide a chart of the zones. The red arrow illuminated in photo above indicates that this area of the platform is for passengers in zone four.
Finally, if you have purchased your ticket online and printed it out, there is no need to validate at the yellow boxes posted in front of each platform. However, if you have a regular ticket, remember to insert it in the slot in the front of the yellow validation boxes in order to receive a time stamp on the ticket. Failure to do so will incur the wrath of the conductor, as I unfortunately found out. French trains are generally efficient, with 90% arriving on time. The exception to this rule is when someone commits suicide by jumping in front of a train, which brings the entire public transportation system to a halt, sometimes for hours. My French friends tell me this is fairly common, occurring as often as once a week.
Getting Around France by Bus:
In general, my friends were correct: bus travel around France is extremely limited. However it is possible to ride buses between destinations within or between adjacent provinces. For example, I desperately wanted to see Mont St. Michel, a medieval castle/abbey built on a small island just offshore from the border between Brittany and Normandy. Trains run as far as the small village of Pontorsson and buses meet the train, carrying visitors the last few miles to the island. Tourists can also catch buses twice a day from the larger city of Rennes.
Ride Sharing with BlaBlaCar:
Though I did not personally try out this mode of transportation, my Parisian friends insisted it is widely used, and I also met a number of people during my travels who raved about car sharing. Essentially, people who are driving to a particular destination and are willing to "rent" space in their car post the trip on the BlaBlaCar website , along with the fee they are asking. People who are looking for a ride can search the sites by departure and arrival points and message the provider through the site's internal messaging system, which protects the identity of both parties. If the parties agree, they then arrange to meet in person. Every time two members meet they publicly rate each other on the website, allowing members to build up a trusted reputations. This means that before you travel with another member you can read their ratings and benefit from the experience of other members. Generally, car share prices are much lower than any other form of transportation throughout France, and it is often possible to arrange rides between France and adjacent countries such as Belgium, France and the UK.
Taxis:
In closing, I would like to say one word about taxis: just say no. They are ridiculously expensive and entirely unnecessary, given the fabulous public transportation options available around France.