Worship of a feathered serpent deity may have begun as early as 200 B.C. at Teotihuacan near present day Mexico City, but it reached its pinnacle at Chichen Itza, the Mayan cultural capital in the north central plains of Mexico's Yucatan peninsula. Named Quetzalcoatl by Nahua residents of Teotihuacan, to Maya the plumed serpent was Kukulcan, a name they also gave to the famous stepped pyramid that today dominates the archeological site.
Chichen Itza is rife with signs of serpent worship. Thousands of limestone blocks at the base of the great ball court are carved with scenes of athletes who, upon losing a match, were decapitated; the blood flowing from their severed necks turns into wriggling serpents. Giant serpent heads protrude from the ends of the ball court stadia, while still others stand guard at the bottom of the staircase leading to the top of the smaller Ossario pyramid. The Kukulcan Pyramid also features a pair of serpent heads but strangely, they flank only the north staircase; the other three grand staircases may have purposely been left unadorned as a clue to the significance of the solo pair. The Maya built the temple so precisely that on the spring and autumn equinox, at the rising and setting of the sun, the corner of the pyramid casts a serpent-shaped shadow on the side of the north staircase that slithers down to the serpent's head at the base.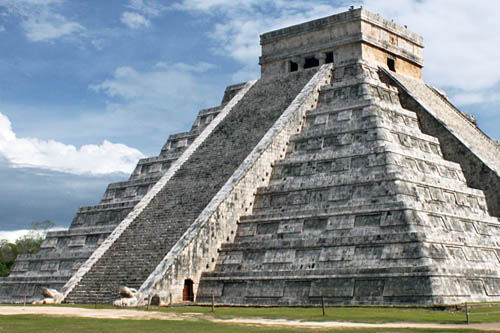 By all indications, the Maya culture at Chichen Itza was steeped in violence. In addition to serpents, other carvings feature jaguars eating human hearts, battle scenes, and row upon row of stones depicting human skulls. Even the cenote, which was undoubtedly their sole source of fresh water, was the site of human sacrifice, a fact that was confirmed when the cenote was dredged from 1904 to 1910 and human remains of adults and children were found at the bottom, all of which had evidence of wounds consistent with human sacrifice.
Can't see the above slide show of Chichen Itza Mayan ruins in Mexico's Yucatan? Click here.
Serpents, jaguars, and other violent deities failed the Mayans; by 1000 AD the site was mostly abandoned, although it continued to be a pilgrimage site for indigenous peoples until well after the Spanish Conquistadores arrived in 1526. Archeologists offer no explanation for the decline of the city, but I couldn't help but wonder if residents were forced to leave because water in the cenote was fouled by bodies of victims who were tossed into it. Today Chichen Itza is enjoying a resurgence of sorts: the ruins are the second most visited in Mexico and the Pyramid of Kukulcan is considered to be one of the Seven Wonders of the World.
If you enjoyed this article you may also be interested in my experience with Cancun cosmetic dentistry.
Save