When I travel, I am always drawn to the children because of their exuberant joy. Children live in a world of possibilities. They haven't yet been told they "can't" and don't understand the concept of impossibility. They walk and run through the world in wonderment, absorbing everything, questioning, imagining.
Long ago, someone told me that I still had that same childlike curiosity and advised me never to lose it. I almost did. Years of working in a traditional job, denying my true path, gradually but inexorably sucked the joy out of my life. Fortunately, I escaped in time, deserting the world of business for the life of a travel writer and photographer. Now I wake every morning, eager to share my photos and travel stories about the places I visit and the people I meet. My insatiable curiosity ensures that there will always be another interesting cultural destination I long to explore, another culture immersion experience waiting in the wings. And on the rare occasion when I am irritated or unhappy, I need only to look to the children to recapture my joy.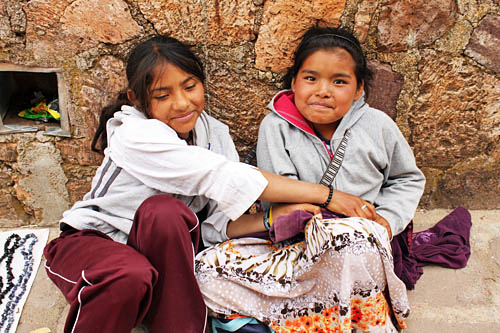 I met many such children on my travels, as these Mexico children photos demonstrate. Sometimes we just share a smile. Others times we engage in long conversations, the kids telling me fascinating stories about their lives. At my hotel in Playa del Carmen the manager's two sons often played around the pool. One day they sat down at my table uninvited and started chatting away, the older one telling me how his younger brother got the strange scar that ran vertically down the center of his forehead (he fell off the third floor balcony and had to be flown a hospital in Venezuela for emergency surgery).
On the hilltop known as La Bufa in Zacatecas, I was standing on the flagstone terrace enjoying a sweeping view of the city below when I heard a soft whispered "hola" – hello. Sitting on the hard stone just a few feet away, two Indian girls were selling handmade woven items and jewelry spread on a blanket. Shyly, without making eye contact, one of the girls asked my name. I told her it was Barbi – the name I use in Mexico because of the Spanish expression, "Que Barbara!" which roughly translates to "how horrible." To be polite I asked about her merchandise but she seemed disinterested. Finally, she worked up enough courage to point at my camera and ask, "Foto?" I obliged, snapping three photos and showing them to her in the camera's LED display, which elicited squeals and giggles.
For the rest of the day, she followed me around the hilltop. While I was in the Pancho Villa Museum, she hovered outside the door. As I munched on enchiladas from an outdoor kiosk I heard another whispered: "Barbi," and turned to find her sitting against a tree trunk, snuggled between two metal serving tables. "Hola," I cried! She rewarded me with a precious dimpled smile before looking down at the ground, embarrassed by her own forwardness.
Many parents allowed me to take photos of their children, so that I can share their lovely faces and incomparable spirits with you. I loved interacting with them, not only because they were precious, but also because I came away feeling that I'd been closer to true Mexican culture by virtue of meeting them.
Can't see the above slide show of Mexico's children? Click here.
This article is part of the Lonely Planet Blogsherpa Travel Blog Carnival, where this week's topic is "Kids Around the World." If you wish to see more photos and stories of children from some of the world's best travel bloggers, cruise on over to The Silent I, the travel blog of Glennia Campbell, who is hosting this week's carnival.