Within moments of the bus leaving the Mexico City terminal bound for Veracruz I was fast asleep. I'd been traveling hard, seeing sights and meeting people by day, cataloging photos and writing by night. An eight hour bus ride meant a welcome opportunity to catch up on sleep. Some hours later I awoke and was surprised to see what appeared to be pollution from Mexico City still floating above the flat horizon like a gray blanket. But there was also something else: a brilliant white point floated atop the layer of grit.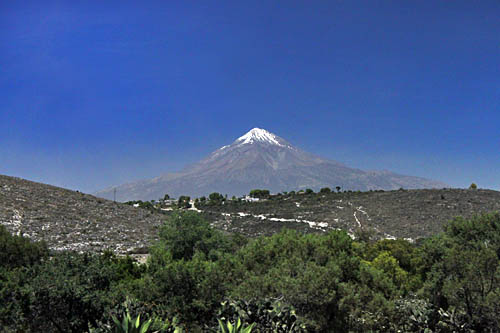 I blinked a couple of times and rubbed the sleep out of my eyes, suspecting a mirage, but with every subsequent mile the snow-capped pinnacle grew clearer and more impressive, protruding effortlessly and suddenly from a flat plain. My map showed that this was Pico de Orizaba volcano, the highest mountain peak in Mexico, third highest in North America, and second most prominent volcanic peak in the world after Africa's Mount Kilimanjaro. It is considered an active volcano, although it hasn't erupted since 1687.
The summit and its foothills form Pico de Orizaba National Park, popular with mountain climbers for its numerous routes to the summit and with hikers for the many trails winding though pine forests that cover its lower slopes. The haze, rather than being pollution, occurs because tropical air from the Gulf of Mexico meets cooler inland air at the mountain, creating a persistent drizzle for much of the year and the optical illusion that, from a distance, the mountain is floating in the air.