On my quest to see a little more of the tiny but fascinating State of Queretaro, I boarded a confusing combination of buses in Bernal and Ezekiel Montes to travel to Tequisquiapan, Mexico. This tiny town's claim to fame is that it is the geographic center of the country, a fact seemingly confirmed by a monument erected in a plaza near the main square, however Guanajuato, Zacatecas, Aguascalientes, all towns located in the central highlands, dispute Tequisquiapan's claim, each insisting that they are the geographic center of Mexico.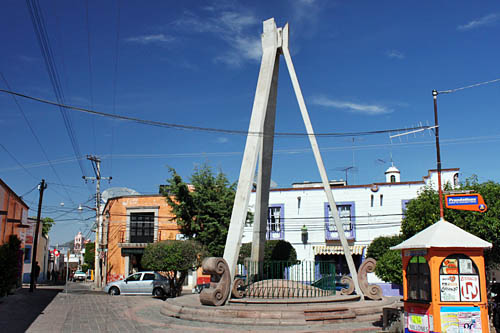 Regardless of whether or not it is the true geographic center of Mexico, the town is an undiscovered gem. Founded in 1551 by an Otomi Indian chief, it has been known as Tequisquiapan since 1656, an Nahuatl word meaning "place of waters and tequesquites (a mineral similar to salt)." Today the narrow cobblestone streets overhung with luscious boughs of Bougainvilla, colonial-era buildings with wrought iron window frames, and especially the Templo de Santa Maria de la Asuncion, an exquisite Neoclassical church that anchors the central Plaza Miguel Hidalgo, make Tequisquiapan an ideal choice for a tranquil weekend getaway.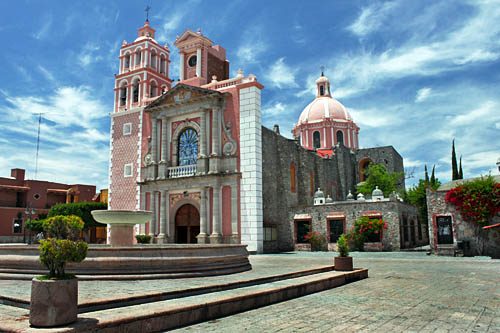 One of the main pleasures of a visit to Tequis is sitting in Plaza Miguel Hidalgo and enjoying the laid-back, almost sleepy rhythm of this village. A miniature passenger train toots shrilly as it circles the plaza loaded with delighted children, while parents watch from one of the many coffee shops, ice cream shops, and restaurants surrounding. Women in head scarves step into the church to offer midday prayers, while on the other side of the central fountain men congregate in the shade to play cards or have their shoes shined.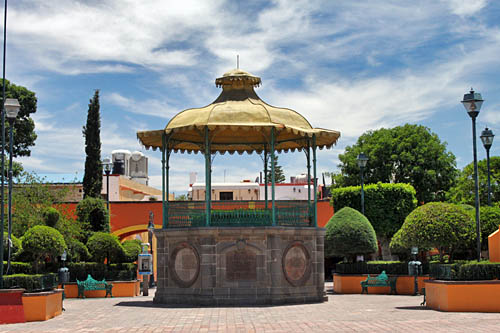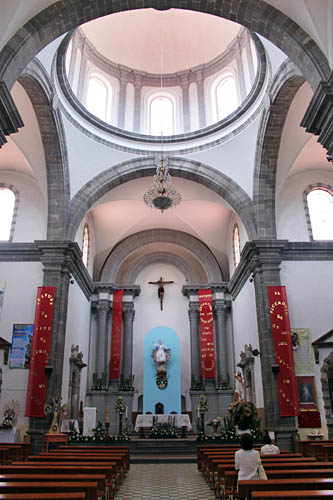 Once the town has been thoroughly explored, the Freixenet Wine Cellars, traditional Artisanal Market of Vara and Mimbre (rod and wicker), and La Carbonera opal mine, which sells a selection of hand-crafted jewelry made from the locally mined gems, are all easily done day trips. However, I did none of these. Upon arriving I had asked around for lodgings and a local man had directed me to Poasada de Tequisquiapan, a small inn on a side street just three blocks from the central plaza, promising me that it was the nicest hotel in town and very economical.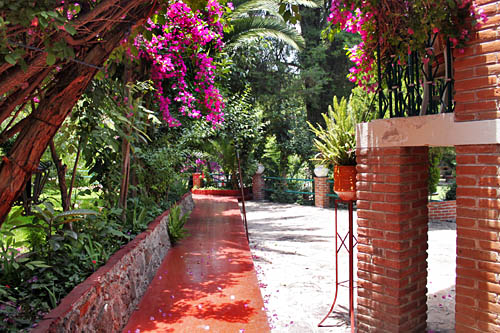 Can't view the above slide show of Posada de Tequisquiapan? Click here.
Behind its simple facade, this family-run inn indeed secreted luscious gardens and a swimming pool; when not exploring the town I was happy just to lie like a lounge lizard next to the pool, a real treat at this point in my trip (check out the photos of the stunning grounds in the above slide show). The price for my king size room, which overlooked the gardens, was a mere $250 pesos per night, about $22 USD. Posada de Tequisquiapan has no web site; to make reservations, contact the owners at +52 414-273-0010.