The City of Guanajuato may be the birthplace of Mexico's Independence, but the sign stretched across the road proclaimed the town of Dolores Hidalgo to be the cradle of its independence. My visit to this tiny village was serendipitous. Wondering whether I really wanted to keep San Miguel de Allende on my travel itinerary, I'd taken a day tour from Guanajuato to check it out, and the towns of Dolores Hidalgo and neighboring Atotonilco were on the itinerary as well. Since both figured prominently in the Mexican struggle for Independence, and since 2010 is the Bicentennial of Mexico's Independence, these two historic pueblos turned out to be the highlight of the tour.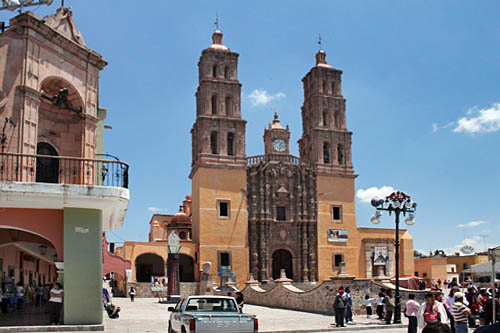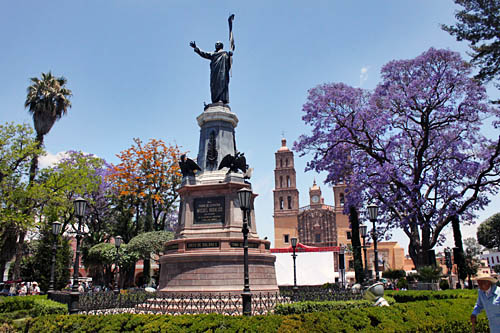 On September 16, 1810, Catholic priest Miguel Hidalgo stepped up to the pulpit in the town of Dolores and delivered an impassioned appeal for revolt against the Spanish rulers of Mexico. His timing was perfect; anti-Spanish sentiments had long been simmering and his "Grito de Dolores" (scream of Dolores) brought discontent to a boiling point.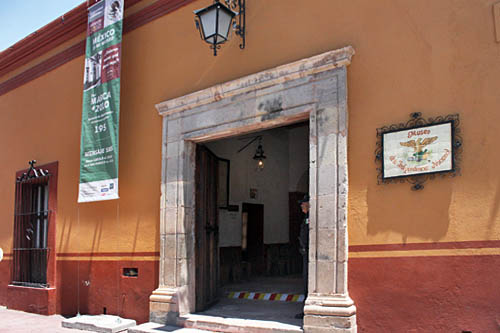 After the passionate sermon, Hidalgo marched to the town jail and freed all Mexican prisoners and before long an army of 800 had amassed. Bent on revenging three centuries of oppressive and exploitative rule by Gachupines (native Spaniards), this mob of Indians and mestizos began the long march toward Mexico City. One of their first stops was at the Sanctuary of Nuestra Señora de Guadalupe in Atotonilco, where Hidalgo affixed an image of the Holy Mother of Guadalupe to a lance as his banner.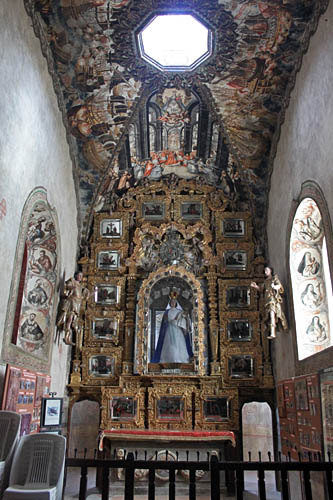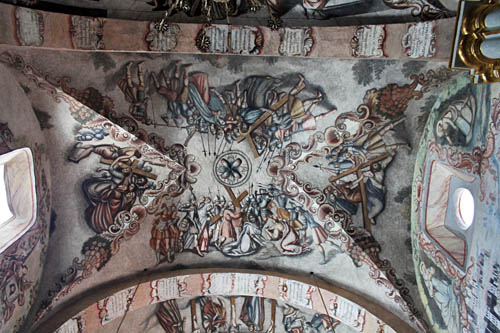 On September 28, Hidalgo and his army of insurgents marched into Guanajuato and massacred Spanish officials, soldiers, and residents in the first recorded conflict of the war. After Mexico achieved Independence in 1821, the town was renamed Dolores Hidalgo to honor the man all Mexicans consider the "Father of Independence."
Today, Dolores Hidalgo plays an important part in Independence celebrations across Mexico. On the evening of September 15th, the Mexican President stands on a balcony overlooking the Zocalo in Mexico City – one of the largest plazas of its kind in the world – and screams out the "Grito de Dolores." On the last year of each president's term, it is customary for the President to reenact the Grito in the town of Dolores Hidalgo. Every September, people from across the country flock to Dolores Hidalgo to celebrate the holiday in the footsteps of the insurgents, but these days the reenactment is a lighthearted event that incorporates vendors on the Plaza who hawk colorful handmade Talavera ceramics and unique flavors of handmade ice-cream such as corn, shrimp, cheese, avocado, fried pork rind, and mole (the chocolate kind, not the animal). Yet even here, Hidalgo had a hand; it was he who encouraged the indigenous residents to develop and market the ceramics for which the town is today so famous.