I stepped from my casita and looked up into a night sky exploding with stars. They swirled and throbbed, so bright that I needed no flashlight to find my way. On the western horizon, Orion's bow pointed me toward the open-air restaurant at Rancho Pescadero, while the Big Dipper hung low in the eastern sky. Even shy little Pleiades came out to gaze upon this amazing new resort near Todos Santos in Baja California, Mexico.
As a hosted guest of Rancho Pescadero Resort during a press trip, I expected the resort management to make every effort to welcome and impress me, but I did not expect to become a part of their family. From the moment I arrived everyone – from resort managers, Josh and Christine; to Danny the bartender; to Carla in the front office; to the night watchman, Angel; right down to the owner, Lisa Harper and her partner, George Lilinoe – adopted me. While I'd like to think that had something to do with my charming personality and wit, I must confess that during my stay, every guest received the same care and attention and this may be why, with only four months under their belt, the resort is already receiving repeat guests.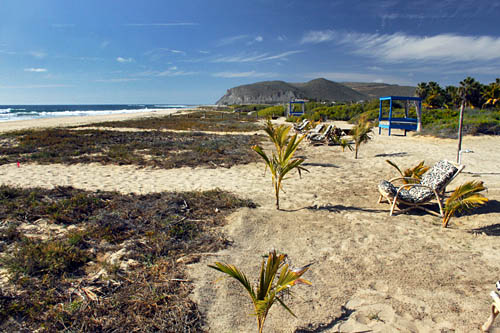 If a caring staff is not enough to entice you to visit Rancho Pescadero, the facilities will win you over. From the central reception and open-air restaurant, guests descend to suites, which arc toward a pommeling ocean in a sweeping semi-circle that enfolds a poolside bar, whirlpool spa, and gorgeous pool with floating beds. By day, sand paths lead over a low dune past tall cactus to miles of pristine, windswept beach, where long walks, fishing, or surfing are the order of the day. Not into physical activity? Luxuriate in one of the resort's dunetop beach beds, roofed wood frames with a mattress and curtains that can be drawn if the sun gets too intense, or make an appointment for a treatment at the oceanfront spa cottage. After dark, barrel chairs surrounding a firepit encourage flame gazing or more star gazing.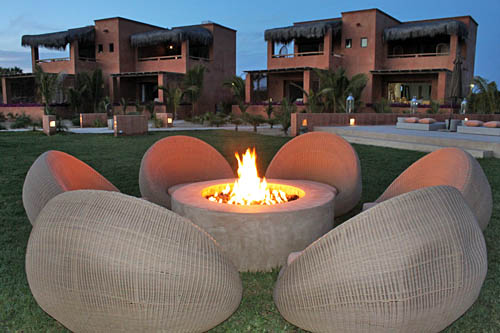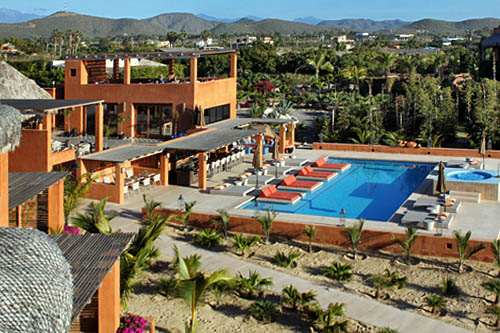 When it comes time to feed the belly as well as the soul, the restaurant creates mouthwatering daily selections from the fresh catch of the day, cuts of meat from the local butcher, and organic herbs and vegetables readily available in adjacent fields that supply Whole Foods Markets across the U.S. Although the kitchen is open for breakfast, I never had need to use it, since a tray of fresh-picked fruit and gourmet coffee is left at the door of each suite by 7:30 every morning, complements of the resort. For that matter it was hard to even leave my stunning suite, which featured an open-air floorplan with private patio, separate sitting room with a pillow-smothered couch and two high-back chairs, and a bedroom with mosquito-netted king-size bed (why, I don't know, since I never felt the first sting of a mosquito). Even the bathroom was luxurious, featuring a Mexican style deep-well concrete sink and a sunken walk-in shower/tub constructed of Mexican tile.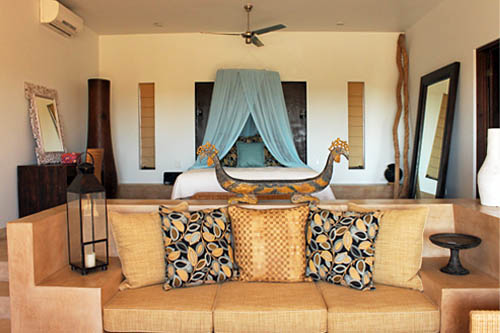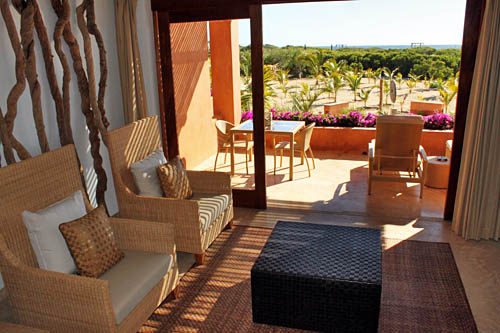 My initial stay was for two days, but Lisa invited me back for two more days, and I had such a hard time tearing myself away that I added a fifth day. Priced from $185 to $240 per night (holidays slightly higher), Rancho Pescadero is eminently affordable, and the other services – spa, food, drinks, and tours to nearby natural attractions – are also affordable. Though brand new, the resort has been the subject of much interest within the travel industry. With published reviews by the Los Angeles Times and the San Francisco Chronicle, and recent visits by representatives of the New York Times and GQ Magazine, this (almost) undiscovered gem will not stay a secret for very long, but I have confidence that no matter how successful Rancho Pescadero becomes, Lisa and her crew will continue to make every single guest feel like a member of the family.
To reach Rancho Pescadero Resort, guests can fly into either San Jose del Cabo (1 hour and 45 minutes from the resort) or La Paz (1 hour and 20 minutes away) in Baja California. From there, you may either rent a car, or the resort can arrange for a shuttle at a cost of $200 USD each way, for up to six people. If, like me, you lean toward adventure and experiencing local culture, take a bus instead. Mexican buses are luxurious by U.S. standards, featuring wide reclining seats, window curtains, on-board movies with English subtitles, and air conditioning. My bus from La Paz to Rancho Pescadero cost $77 pesos, or about $6.50 U.S.