Since starting Hole In The Donut in late 2006, I've received several awards and my site has risen significantly in the ranks of travel blogging. Well, now it's time to take a crack at the grandaddy of them all, the 2010 Weblog Awards, more commonly known as the "Bloggies." Each year, the Bloggies ask readers to nominate and then vote for their favorite blogs in categories ranging from best travel blog to best gossip blog.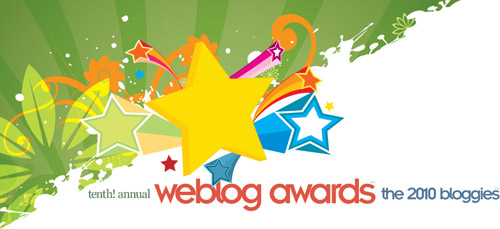 Unlike other contests and award programs, readers don't have to register or join ANYTHING to participate in the Bloggies. The only requirement is an email address and a willingness to nominate at least three of your favorite blogs. Upon receipt of your nominations, the Bloggies send a confirmation email; you need only click on the link in the email to complete the nomination submission. You will also have an opportunity to vote for the winners once the finalists are chosen.
If you would like to nominate me (and at least two other bloggers), please visit The Bloggies nomination site. Several categories could be appropriate for my blog, including best travel webblog, best writing for a weblog, best photography for a weblog, or best-kept secret weblog, but please feel free to nominate me in whatever category you deem appropriate. And thank you so much for your support.