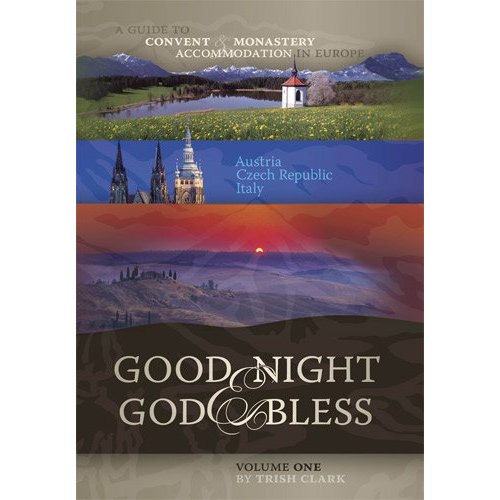 Throughout the ages, religious orders have traditionally offered lodging and a bite to eat in return for a small donation. Although few were aware of it until very recently, this tradition continues today. Convents and monasteries around the globe supplement their income by offering cheap, clean, and safe accommodations for modern day pilgrims.
I first heard about this practice when I was traveling around the world in 2007. On the backpacker trail for six months, I learned that rooms at convents were available for astoundingly cheap rates. The only downside seemed to be that the residents retire early – guests who don't return by 9 or 10 p.m. find themselves locked out for the night. That was no problem for me, as I'm not much interested in nightlife, so I decided to try to find a convent in Italy. I hoped to stay in one in Rome that was supposed to be across the street from the Colosseum. Unfortunately I never could find it and I left Europe without the experience of staying overnight in a convent.
I haven't given up. Staying in monasteries and convents still appeals to me. And now, courtesy of the new book, Good Night & God Bless, the process of identifying, contacting and arranging for accommodations will simplify my next attempt. Backed by a  lifetime of travel and sleeping in religious facilities, author Trish Clark decided to share her wealth of information in a series of three novels with the first covering Austria, the Czech Republic, and Italy. Clark has listed both Open Houses (suitable for all travelers) as well as Spiritual Retreats, which are designed for those wishing to immerse themselves in a spiritual holiday such as meditation, retreats, or a pilgrimage. Each listing provides a thorough description of the facility, including information about meals, laundry service, reservation procedures, nearby local attractions, and whether the area is well served by restaurants and public transportation.
Clark also debunks the myth that staying in a religious establishment means adopting austerity, stating, "Pleasure does not necessarily go out the window the minute you book in. Wine is often served at lunch and dinner. Meals are sometimes prepared using the monastery's home-grown herbs and vegetables and some convent dining rooms are popular with the locals." Rooms are identified as being "ensuite" (bathroom in the room), or sharing a bath, and rates are quoted on prices quoted are approximate and are based on a twin share, per person, per night basis for the low season. The convent I sought near the Colosseum, Casa II Rosario, has rates beginning at 40 Euros per night per person.
Good Night and God Bless: A Guide to Convent & Monastery Accommodation in Europe: Austria, Czech Republic, Italy is available through Amazon.com for only $13.60, a savings of $6.40 off the suggested $20 retail price. Had this book been available when I visited Italy, I would have saved a great deal of money on accommodations. I'll definitely use this guidebook the next time I visit Europe and I'm looking forward to Clark's next two volumes, although I do hope she opts to create an electronic version for Kindle in the not too distant future.