Last week, the blues hit me with a vengeance. There was no mystery about my mood; wanderlust was having its way with me and I knew it was once again time to travel. I threw a few things in a bag, grabbed my camera, and pointed the car north, intending to check out some of the smaller inland towns along the Nature Coast, where I'd heard "Old Florida" still exists. Exiting I-75 at US Rt. 98, I traveled west through Brooksville (cute enough, but it just didn't have the energy I sought) and then turned north on US Rt. 41. Because this used to be the main north-south route in western Florida, it passes through scores of small towns – Inverness, Hernando, Holder, and Citrus Springs – but none piqued my interest enough to make me stop.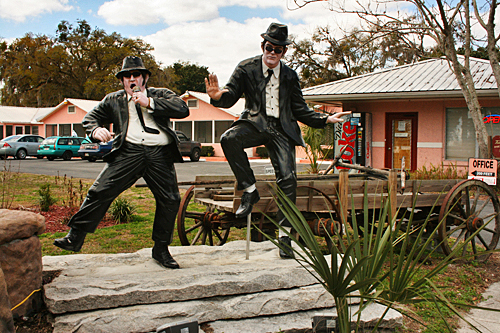 A few minutes later, as I crossed over the Withlacoochee River into Dunnellon, Florida, my "interest radar" perked up. A sign proclaiming "Dunnellon Boomtown Historic District" directed me onto Pennsylvania Avenue. I drove past dozens of lovely old restored homes and commercial buildings to the end of the street, where I found the Two Rivers Inn. Mounted in front of this otherwise unassuming row of concrete block cottages was a full-size statue of the Blues Brothers.
"It's a sign," I thought. "Maybe the Blues Brothers can chase my blues away." I found the office and paid for a night's stay, delighted with the $59 per night rate that came complete with wireless internet. Since my room wouldn't be ready for another couple of hours, I wandered back down the main drag in search of something to eat. At The Levee Cafe, they were literally standing on the front porch, dragging folks inside on this slow Sunday afternoon. Lured in by the promise of a great Caesar salad, I slid into a booth just as BJ and Bruce began singing the blues during the cafe's afternoon jam session. "Did I pick the right town, or what!"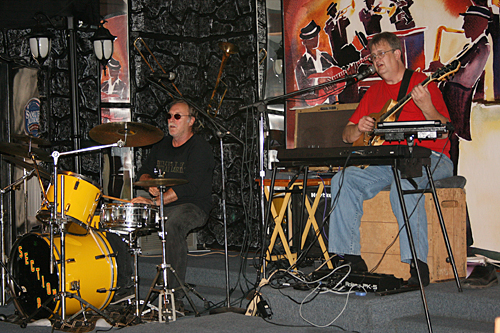 After a delicious lunch, I headed back to the motel to deposit my suitcase. I must digress for a moment. My criteria for motels and hotels is simple – I seek budget prices, a modicum of cleanliness, and safety. As you might imagine, I have stayed in some real dumps, and with a nightly rate of $59, I was prepared for Two Rivers Inn to be another dump. Hoping for the best but expecting the worst, I opened the front door. My  jaw dropped in astonishment. This was no dump!
The rooms at Two Rivers are mini suites, with a bedroom, bathroom, kitchenette, smallish living room, and a screened front porch. Each suite has a themed decor: "Equestrian," "Wine Cellar," "Palm," "Plantation," "Golf," and "Maui," among others. My suite was aptly named "Nantucket."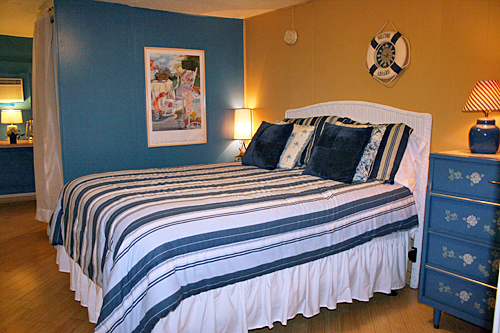 With its high, fluffy bed smothered in throw pillows, its painted furniture, and its cottage-craft wall hangings, it was obviously inspired by a trip to the beach.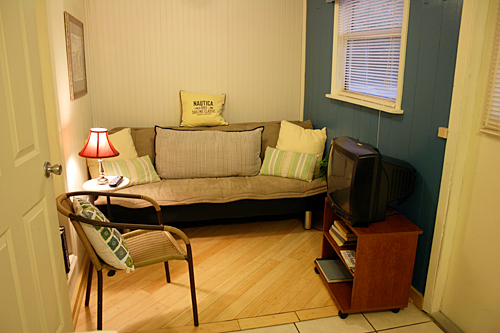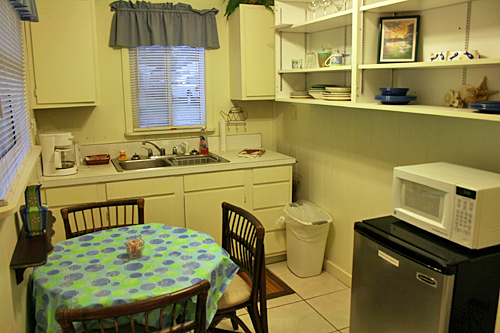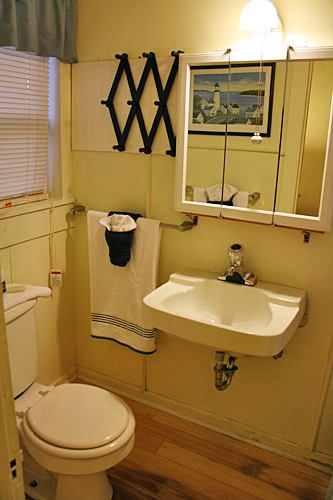 The kitchen was fully stocked with pots and pans, dishes, glasses, silverware, a toaster, and a coffee maker, and the motel had even provided free coffee. The acid test was the bathroom, as they are usually less than wonderful in these old buildings. But though small, the bath was a delightful combination of old-fashioned design and modern decor. The screened front porch was even furnished with an outdoor table and reclining chairs.
Most intriguing, I learned from the inn keepers, Rhonda and Herbert Moon, that the motel was originally built by the U.S. government as officers quarters during the second world war. After the barracks were no longer needed they were moved from the Dunnellon airport to their present location.
During a subsequent walk around town, I discovered that the Inn is just one of 70 architecturally significant properties in the "Dunnellon Boomtown Historic District." Prior to the 1888 discovery of hard rock phosphate in the area, the only settlers had been self-sufficient farmers growing cotton, vegetables, sugar, and raising cattle. But that changed drastically once the valuable mineral was identified. Phosphate was a commodity in high demand. In Europe, French farmers alone used 200,000 tons per year and farmers in the U.S. used more than 1,300,000 tons of phosphate fertilizer. Soon, investors, prospectors, and developers were pouring into Dunnellon and a building craze ensued.
Because phosphate mines as well as the timber and turpentine camps surrounded the town site, Dunnellon never segregated its black and white communities. As a result, development happened in a helter-skelter manner, with elaborate Victorian mansions constructed alongside "shotgun shacks" and foreman's cottages. Saloons, bordellos, rooming houses, churches, and mercantiles sprung up between residences to serve the needs of this rough-and-ready mining boom town.
Boom times continued until the beginning of World War I in 1914, when European ports were closed to U.S. shipments and demand for phosphate from domestic markets was decreasing. By the time the war ended, France had discovered phosphate deposits in its French territories in North Africa and Dunnellon faded into obscurity, just another sleepy, small town in north central Florida.
The town's slow recovery, which did not begin until the late 1960's, was a unwitting contributor to the preservation of many of the historic structures. Finally, newcomers began moving into the Historic District and restoring houses for commercial and residential use. For the remainder of the afternoon, I wandered in and out of restored Victorian mansions converted to antique shops, gift stores, florists, real estate offices, and and restaurants. The best among them was the Grumbles House, which offered an intriguing selection of gifts, antiques, and live plants in an outdoor nursery.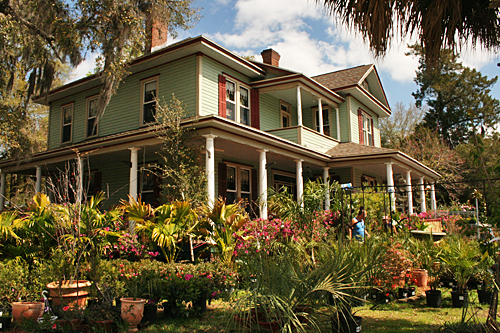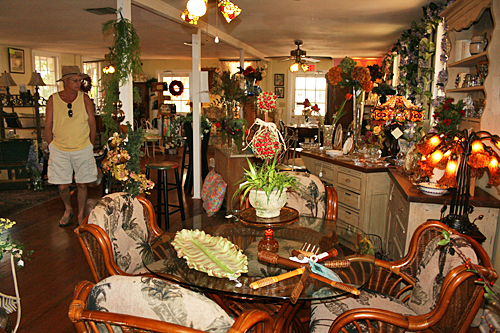 The Historic District is not the only attraction in Dunnellon. These days the town's most treasured natural resource is its location at the confluence of the Withlacoochee and Rainbow Rivers and the existence of nearby Rainbow Springs, the second largest natural spring in the state of Florida. Already, I know I will stay here more than one day – there is much more to explore, so stay tuned for part two about this undiscovered gem along the Nature Coast of Florida.