The minister stood in front of the 70 couples who had gathered in Sarasota's Bayfront Park and bid them rise and join hands. Solemnly, he discussed the sacrament of matrimony and then launched into the vows. A split second after they had all agreed to love, honor, and obey, an ambulance screamed by with sirens blaring.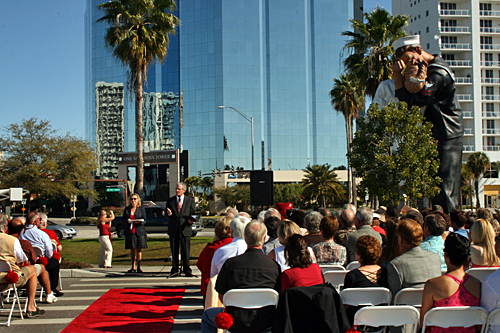 "I trust that isn't for anyone here?" the minister said, giving everyone a good laugh.
Indeed, there were no terrified spouses or fainting brides at this mass renewal of vows. Each of the couples had paid $100 for the privilege of standing beneath the giant "Unconditional Surrender" sculpture temporarily on display in the park and saying "I Do" the second time around. Billed as "A Monumental Valentine's Day Kiss," the event was a fundraiser for Sarasota Season of Sculpture, which is attempting to keep the work in Sarasota permanently.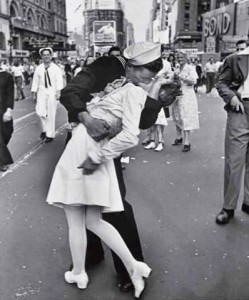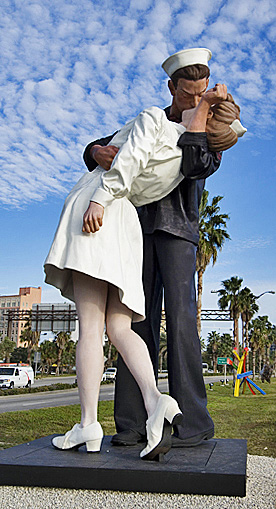 The iconic sculpture is immediately familiar to anyone old enough to remember WWII. At the end of the war, as people streamed into the streets to celebrate, photographer Alfred Eisenstaedt snapped a photo of a sailor kissing a young nurse in New York's Times Square. It was subsequently published in Life and became one of the most famous photos ever featured in the magazine. In 2005, when artist J. Seward Johnson was invited to participate in Sarasota's bi-annual exhibition of large scale sculptures he recreated the photo in a 26-foot high Styrofoam sculpture.
From the beginning, "Unconditional Surrender" was a hit in Sarasota. Residents attempted to purchase the sculpture in 2005 but were unable to secure enough donors. Recently, however, Seward's new aluminum version returned to town and this time Sarasota Season of Sculpture, the organization that oversees the Bayfront's sculpture display, was determined to keep the piece in Sarasota. I eavesdropped as one of the participants asked Executive Director Nancy Terris if the event had raised enough money to purchase Seward's work. "Every little bit helps," she replied. After costs, the event raised slightly more than $6,000, which is a far cry from the $675,000 price tag. But stranger things have happened. Last week I had visitors from out of town and I took them to see the sculpture. On this chilly, blustery day, I watched as a steady stream of veterans climbed out of their cars, stood at the base of the sculpture, and gazed up in wonderment. Before leaving, every one of them slipped a bill or two into the donation box.
This morning, the effect of the sculpture was no less touching. Couples laughed and smiled at one another adoringly. They kissed, cuddled, and held hands. Some of the participants were younger – one couple had identically dressed toddlers in tow and was pushing a baby carriage. An older woman, still slim after all these years, wore her original wedding dress. Yet another couple showed up in running clothes, having completed an early morning marathon prior to the ceremony. I wandered the site, snapping photos and chatting with participants.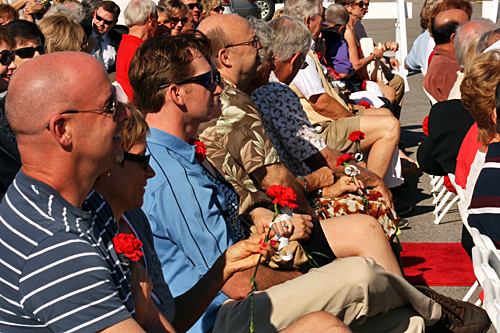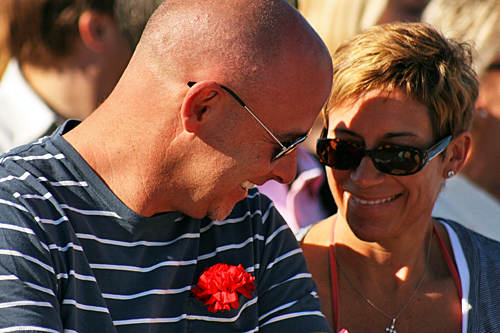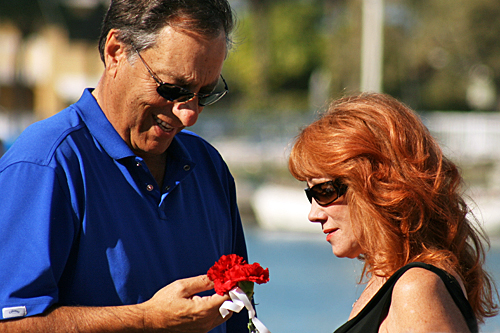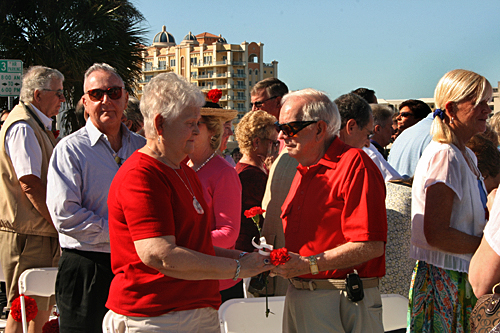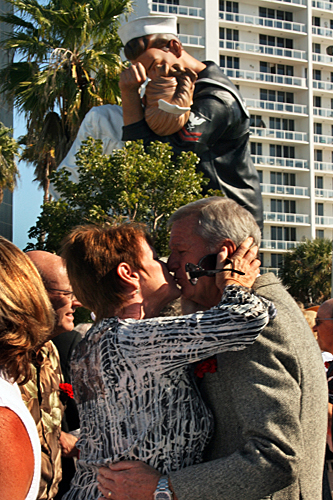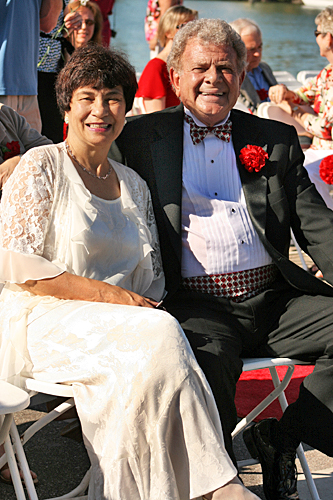 Sitting in a prominent spot in the front row, Pat LaRocca was dressed in long wedding gown. Her husband, Larry, wore a snazzy tuxedo with a patterned silk cummerbund.
"OK," I said, snapping their photo, "I know there's got to be a story here." Pat and Larry were high school sweethearts but things just didn't work out and they went their separate ways. Twenty years later, Pat returned home to attend the funeral of Larry's father. One thing led to another and they were married almost four years ago.
Annette and Deon Haney were sipping champagne when I spied them.
"So, how long have you been married?" I asked.
"Forty-seven years," said Deon.
Turning to Annette I asked: "How did you get him to do this?"
"Oh, it was his idea!" she explained.
Astonished, I turned to Deon for confirmation. "I saw the ad in the paper for the fundraiser. I've always been fond of this statue and I still love her, so I just asked if she wanted to do it"
Well, what do you know…a true romantic. "That's why you're still married after 47 years!"
Deon put his arm around Annette's waist and drew her the tiniest bit closer as she laid her head on his shoulder, smiling sweetly and surrendering unconditionally.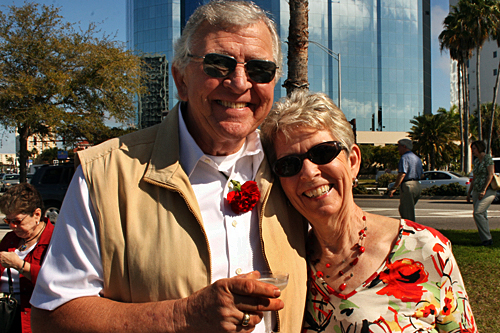 "Unconditional Surrender" is located at U.S. Highway 41 (Tamiami Trail) and the Ringling Causeway, at the beginning of Sarasota's Bayshore Park.