The footage of an angry ocean crashing onshore and sweeping beneath an oceanfront cottage is indelibly imprinted onto the memory of anyone who saw the movie "Nights In Rodanthe." The storm scenes are so jaw-dropping that people may think they were computer generated, but the house is real. It is located in the development of Mirlo Beach in Rodanthe, on the Outer Banks of North Carolina.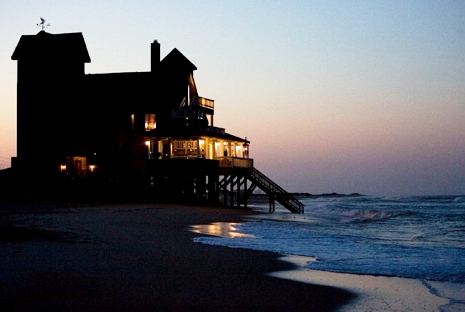 Other than the blue storm shutters that were added to the exterior for the filming, in real life it looks exactly like it did in the movie. And just like in the movie, it stands like a solitary sentinel on a deserted strand of beach.
It wasn't always so. Houses used to stand all along this beach. But since 1999, when hurricanes Floyd and Dennis roared onto the Outer Banks, the oceanfront houses on this particular stretch of severely eroded beach have toppled into the ocean, one by one. During my years as a real estate agent I had the opportunity to show many of these houses; I have even had to talk the occasional client out of buying one of them, explaining how threatened they were. Just two months ago another one succumbed, crumpling onto the beach as a nor'easter ravaged the Outer Banks.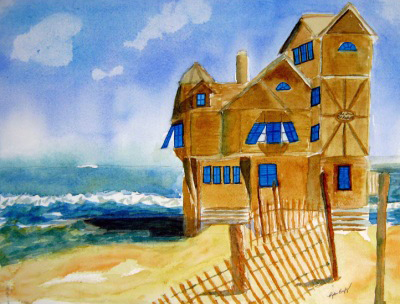 The "Nights In Rodanthe" house is one of a very few that remain. Someday it, too, will lose its battle with the encroaching ocean, but it will be remembered, not only because of the vivid images captured in the movie, but also because Outer Banks artist Robin Bagby has now captured it on canvas. Although Robin's childhood passion was painting, she'd gotten sidetracked by the business world. One day she woke up and said, "I'm an artist and I miss it." She picked up her paintbrush again and began creating the most astounding art. She paints with a unique perspective that falls somewhere between realism and abstract art and her work elicits a visceral, emotional reaction. I think Robin is one of the most talented artists I have ever known and I predict that her work will one day be in great demand.
Note: In December of 2006, author Barbara Weibel left her successful but joyless career to pursue her dream of becoming a travel writer and photographer. This story is one in a series about people who, like Weibel, have chosen to pursue their true passions.