Hidden at the end of narrow Freeschool Lane is the last remaining acre of undeveloped land in Key West's historic Old Town. How this priceless parcel escaped development is nothing less than a miracle, but even more miraculous is the tropical rainforest that today grows upon the site. This is Nancy Forrester's Secret Garden, a virtual oasis where, for a $10 entrance fee, visitors can walk among orchids, Bromeliads, ferns and more than 150 species of palms, including several rare, near-extinct species of palm. Scattered amongst the trees and plants are Mana's rescue birds: colorful parrots, macaws, and cockatoos that squawk from perches in their cages, competing for attention.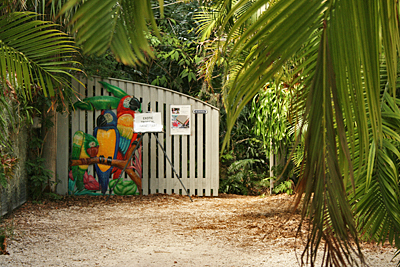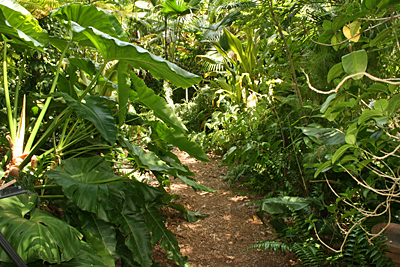 For 40 years, Nancy Forrester has been tending this garden and inviting the public to share in her love of the plants and animals. Unfortunately, this may soon change. Realizing she could no longer afford to personally shoulder the expense of the garden, she recently transferred its stewardship to the Mana Project, a non-profit 501(c)3 organization created specifically for this task.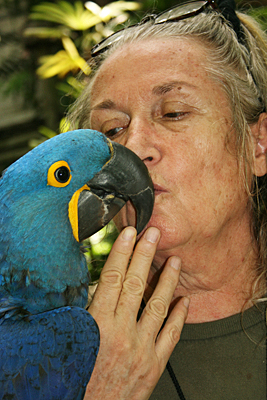 For her 70th birthday last week, in lieu of gifts, Nancy requested donations to continue the legacy of the garden. So far, the donations have been few and the fate of the garden is uncertain. At the moment, however, Nancy continues to run the day-to-day operations under the auspices of the Mana Project, hoping for a miracle that will save it for future generations.
With my time in Key West coming to a close, I made it a point to visit the garden. During my visit, in addition to wandering the dirt paths winding through the lush vegetation, I was fortunate to meet Nancy and spend a couple of hours with her.
That she loves the plants and her parrots is evident, as is her determination to save the land from the roar of the bulldozer that could turn this natural wonder into nine vacation homes. I wish her well and dearly hope the community will support her effort to protect this hidden jewel in the heart of Key West.