Now that my Outer Banks house is sold, I am slowly making my way back to Sarasota. Rather than drive straight through, I stopped in Atlanta for a couple of days to visit my good friends Patti and Tom. By midday today I was back on the road, but the weather and the traffic were not cooperating. No sooner had I gotten on I-285 than traffic slowed and then came to a complete standstill. It took an hour and a half to travel the next 15 miles due to a terrible accident involving multiple vehicles. By the time I got past the accident site, the blue skies had turned black. Lightning was striking all around and giant thunderclouds let forth with a torrent of rain.
I finally made it as far as Macon by 3:30, but then traffic stopped again. This time it was two multiple vehicle accidents: in one case a tractor trailer had T-boned an older model Cadillac; in the other a crane was attempting to right two 18-wheelers that were lying upside-down on the highway. Since it was evident I was not going to make it to Sarasota before dark, I hopped off I-75 at Valdosta, Georgia, and headed for northern Florida's Gulf Coast.
I love going to brand new places; I consider it one of life's greatest pleasures to venture into new territory. I've never been to this area of Florida before and my plan was to wander along the Gulf and check out the small beach towns on my map.
My excitement mounted when I spotted a billboard that advertised the area as, "The longest pristine coastline in Florida." From the road that parallels the coast, I took the turnoff for Dekle Beach, expecting to find beautiful, wide, white sand beaches and charming cottages. What a disappointment! The single paved main road branched into a few rutted sand streets, lined on either side by uninteresting cottages perched high atop pilings. There was no beach; the houses were built on a narrow strip of "high" ground surrounded by swamp. There were no stores, no hotels or motels, and no restaurants. As far as I could tell, boating and fishing were the only two possible activities in this one horse town.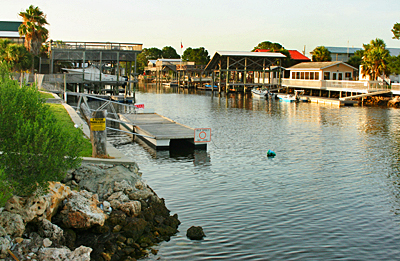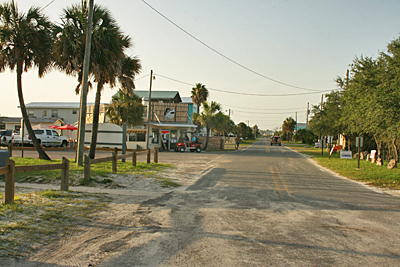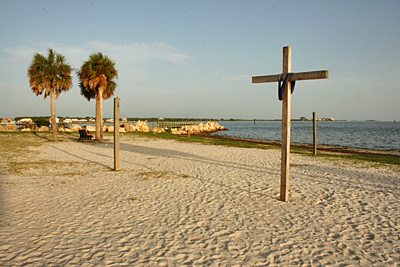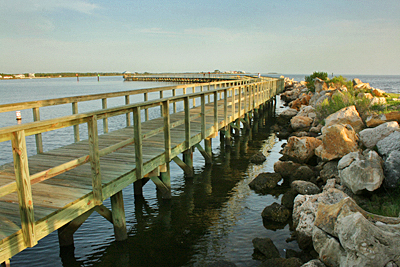 The next town to the south, Keaton Beach, had a few more homes (most of which were built along a series of canals), a little spit of sand beach at the end of the road, a hot dog stand, and a pier that jutted out into the Gulf (see the photos of Keaton Beach, below):

At Steinhatchee it was more of the same, although the town itself was bigger. Turning inland, I passed through Tennille, Cross City, Old Town, and Fanning Springs. Nothing of interest in any of them. I've stopped for the night in Chiefland, which is perhaps best known as the location of Manatee Springs State Park. From November to March, manatee swim up the Suwanee River to winter in the park, where natural springs keep the water temperature warmer than in the Gulf. Although the Suwanee River is probably too warm for them this time of year, I plan to visit the park early tomorrow morning in the hopes of seeing a manatee or two. If I'm lucky, it will be the most (and only) exciting part of the trip. This part of Florida's Gulf Coast is boring beyond belief, but at least I can scratch it off my list of places to visit.