Exploring the back roads of Hatteras Island in search of old homes that have weathered scores of hurricanes and provided shelter for generations of fishermen is one of the many delights of any visit to the Outer Banks. The Old Gray House, tucked into the woods just off the main road in the tiny village of Buxton, is one such structure. If only this house could talk it would tell many tales. Fortunately, the home's current owners, Dewey and Mary Parr, are happy to speak with visitors about their homestead.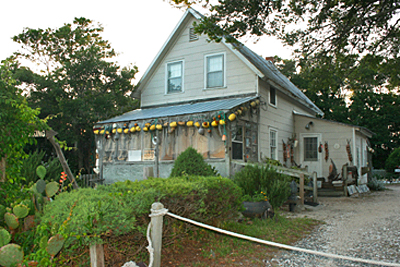 The Old Gray House takes its name from a seafaring family by the name of Gray, whose descendants have inhabited Hatteras Island since the early 1600's, beginning with Dewey's great grandmother, who was shipwrecked on Hatteras Island. She was on board a ship coming from Newfoundland that ran aground and, transportation being difficult in those early days, she just stayed on. Dewey's early years were spent in Buxton, but during World War II the family relocated to Huntington, West Virginia where his father was stationed as a Navy recruiter. After the war was over Dewey remained in Huntington, where he met and married his wife, Mary, and pursued his career in education. Dewey served as teacher, principal, and central office administrator, but he and Mary returned to Buxton every year to vacation at the family's cottage.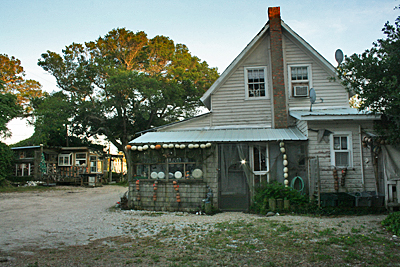 As they grew older, Dewey and Mary began to consider how they would spend their retirement years. Mary had always dreamed of having a little gift shop, full of hand-made items she could share with others. Dewey's dream was to spend his days puttering around with plants, entertaining tourists, and roaming the beach in his four-wheel buggy. By this time, Dewey had already retired, however Mary could not be persuaded to stop working. For three years, Dewey secretly worked on his grandparents' old homestead and on Valentine's Day, 1992, gave Mary the Old Gray House Gift Shop on the condition that she would finally agree to retire.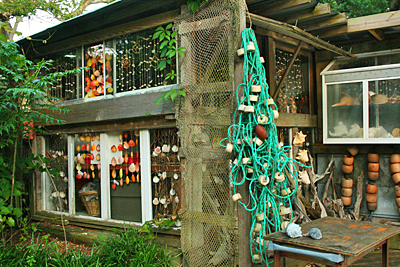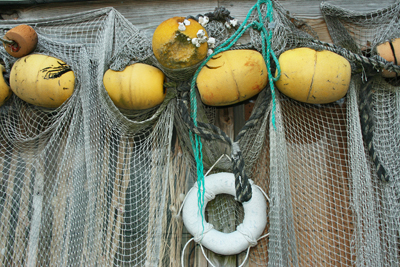 Today the entire home is open to the public for viewing and for browsing. Much of the Old Gray House was built from the scraps found on the beach, rafters from ships, and even shipping boxes that had been discarded from ships (sailors who used to pass by Hatteras Island would toss items overboard to help those who lived on the isolated island). In the main house, Mary has filled each of the rooms with unique and locally handcrafted items. The other structures on the site are Dewey's domain. The old outhouse is now a library and the chicken coop is one of four buildings that offer shells from all over the world. The pathways that connect the various buildings are decorated with shells, old fishing floats, ropes, nets, chunks of coral, and an assortment of antiques. A teepee of fishing poles stand stacked and ready. Even an old bowling ball has been put to use: painted neon blue, it sits in the center of a birdbath that is tucked into an out-of-the-way corner where Spanish Moss hangs from the heavy limbs of Live Oaks.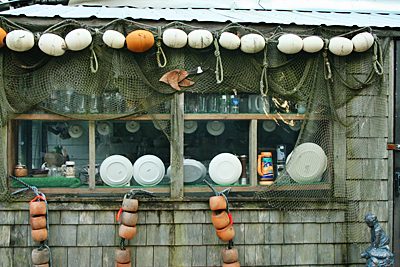 Tourists who find their way to this slightly dilapidated, very funky shop are regaled with legends and lore about the Outer Banks and the house (ask about the ghost that inhabits the house). A visit to The Old Gray House is more than a shopping experience. It is a history lesson, a biology lesson, and a geology lesson, all willingly and delightedly provided by Dewey and Mary Parr, who make it their mission in life to preserve the folklore of the Outer Banks.