Once I made the decision to retire from real estate and leave the Outer Banks of North Carolina, it remained to decide where I would relocate. I made a list of the things that were important to me:
Warm year-round climate
Location on or near the ocean
Access to cultural amenities
Safe environment, low crime rate
A thriving downtown with viable housing options
Access to vegetarian restaurants and organic markets
Availability of yoga and meditation
Nearby airport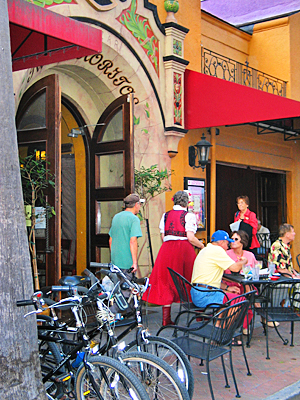 For two years I traveled the east coast of the U.S. visiting every coastal community south of the Outer Banks, searching for my perfect place. Eventually, I settled on Sarasota. A few other places made my short list, but in the end, it was Sarasota's downtown that won me over. I love the fact that it is what I call a "local" downtown; it is not focused solely on tourism, as it offers businesses and services that the locals require.
I am impressed that Main Street is home to a hardware store, dry cleaner, shoe repair shop, and tailors. I adore the fact that I can walk to two grocery stores (one of them a Whole Foods Market in the center of downtown), performing arts centers, museums, a major library, several theaters, a 20-plex cinema, a dozen or more banks, and art galleries galore. It delights me that Sarasota's downtown has a tremendous variety of restaurants, many of which offer street-side dining that allows me to enjoy a leisurely meal while I watch the endless stream of pedestrians passing my table. I am enchanted by the funkiness of downtown, with its multi-colored building facades and mature shade trees arching over the sidewalks.
Recently I learned that some of the things that make downtown Sarasota so special – the things that make it flourish rather than flounder – are in danger of disappearing. Some time ago the city fathers adopted a Downtown Master Plan that apparently prioritized wider sidewalks and eliminated green space. From my limited knowledge and research into the events leading up to the adoption of this Master Plan, I gather that this initiative was driven in part by retailers who wanted the big trees removed so that their storefronts were more visible.
The result was the barren, concrete streetscape that now exists on Main Street east of Orange Avenue: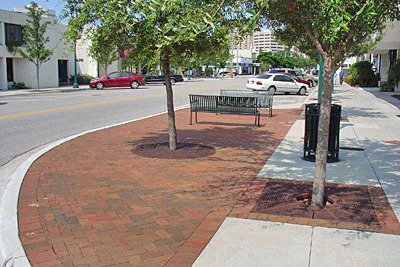 rather than this warm, welcoming streetscape, shown here at night, with twinkling lights strung in the tree canopy: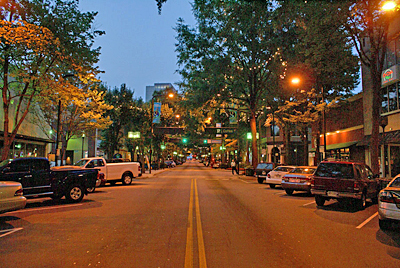 The current plan calls for the area of Main Street west of Orange to be similarly redesigned to eliminate much of the greenery and open up the sidewalks and benches to the blazing sun. Fortunately, a group of "citizens no longer willing to sit on the sidelines of urban history" banded together to form Save Our Sarasota, a watchdog organization that, among other things, monitors the activities of City officials. Their efforts generated a large outpouring of public concern with regard to the existing Downtown Master Plan, resulting in the Commissioners directing city staff to develop a new plan for downtown which places a priority on greenspace. Staff will present their preliminary recommendations and options at a City Commission meeting this coming Monday, May 19th. Although I am currently out of town and cannot attend, it is my fervent hope that the existing trees and greenery wet of Orange Avenue will be retained and enhanced. Anything less would be short-sighted, ill-advised, and in my opinion, would ruin the downtown that I find so charming.