On New Years Day, my friends Patti and Tom treated me to a visit to the Georgia Aquarium in downtown Atlanta. This aquarium, which is the world's largest, has brought more than six million people downtown since its opening in 2005. Built on what had been a long-empty parcel of land in a neglected end of downtown, the aquarium became a catalyst for economic growth in Atlanta's city center. Since its opening, the downtown has seen an explosion of development, including high rise condominium towers, new shops and restaurants, and gleaming new office towers. Some 75 additional mixed use projects are slated to be completed in Atlanta's central business district by 2010 and employers are returning to the downtown every day. It is such an impressive, jaw-dropping facility that I just had to share some photos of it:
After visiting the touch pools, where I touched a shark, we walked through the River Scout Gallery. This area of the aquarium focuses on riverine environments and the exhibit simulates being under a river, looking up. It was a bizarre experience to be surrounded by water, with giant longnose gar fish swimming over my head: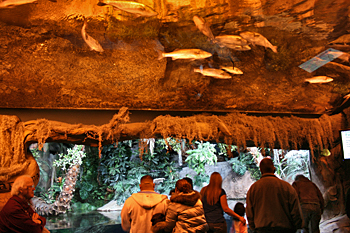 The River Scout Gallery also features other exotic species from the Amazon, such as these electric catfish and red piranha: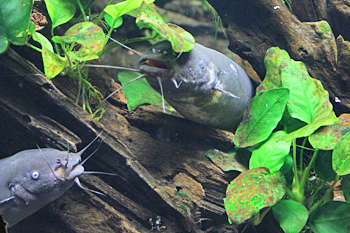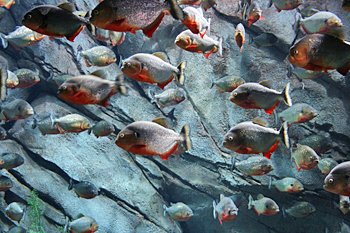 In the Cold Water Quest exhibit we saw Japanese spider crabs that can grow as large as a car: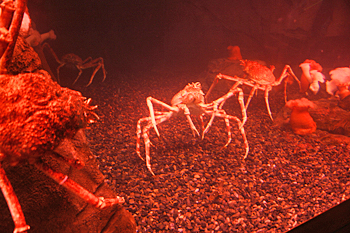 Leafy sea dragons that have developed a unique form of camouflage over the eons; they have body appendages that resemble the leaves of the seaweed in which they live: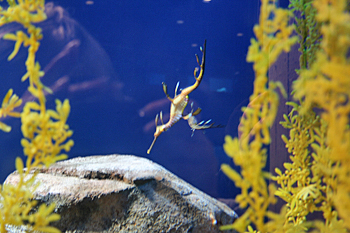 California sea lions (here Patti is begging for a kiss through the plate glass):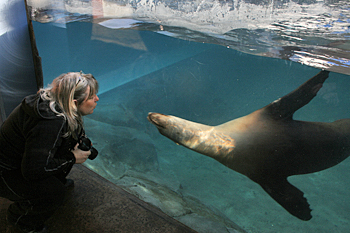 And the favorite residents of the Aquarium, the Beluga whales, who entertain visitors with their perpetual underwater ballet: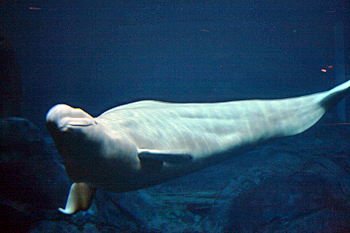 Further along we entered the Ocean Voyager gallery, where an acrylic tunnel leads through the bowels of a giant aquarium. Whale shark (the ocean"s largest fish) swim overhead, alongside schools of miniature neon-colored fish numbering in the thousands. The tunnel opens out into a large hall where the aquarium forms the main wall of the room. People stand and sit on the floor in front of the tank, in awe of the deep blue display that dominates the darkened auditorium. It is without a doubt the largest aquarium I have ever seen: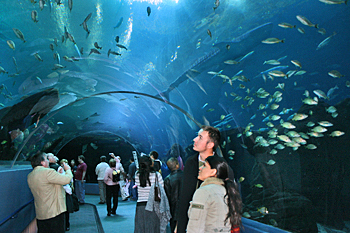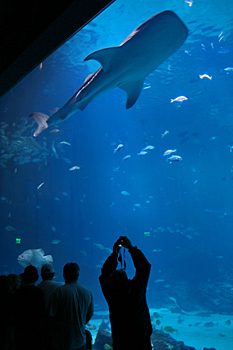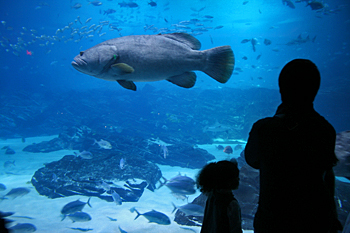 Around the corner from the Ocean Voyager gallery we found the Tropical Diver exhibit, which focuses on the tropical coral reefs around the world. In one tank, hundreds of lacy jellyfish bobbed and drifted, alternately filling and expelling water from their delicate domes to move around the tank. Their movements were indescribably mesmerizing and soothing. If everyone in the world had to stand in front of this tank for five minutes each day, I'm certain we could eliminate war: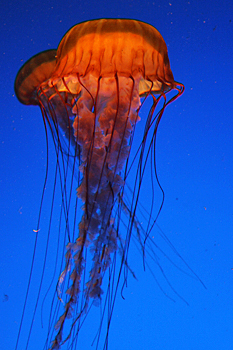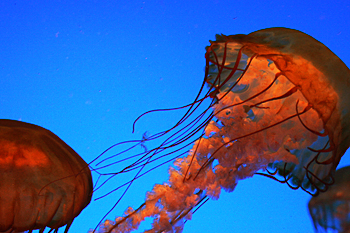 Further along the corridor we found Nemo, contentedly napping in the tentacles of a sea anemone. Dozens of kids were gathered around, pointing out his small fins and exclaiming, "Nemo can't swim very well, you know."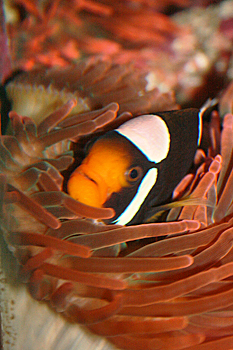 At the center of the Tropical Diver exhibit is yet another enormous tank, where thousands of colorful reef fish dart in and out of a living tropical Pacific coral reef, complete with an overhead crashing wave: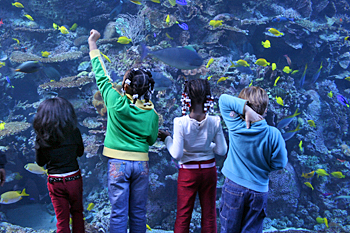 The Georgia Aquarium is a remarkable place and well worth a visit if you happen to be in Atlanta. Admission is $26 for adults and $19.50 for children. And if you're thinking about your next vacation destination, consider Atlanta. In addition to the Georgia Aquarium, downtown offers Centennial Park, with its mock ice skating rink; the new World of Coca Cola Museum; Atlanta's famed Underground, with its below street level shopping mall and entertainment; CNN world headquarters (they offer tours); the Margaret Mitchell Museum and House, where Mitchell wrote Gone With The Wind; the King Center, featuring interactive exhibits that illustrate the beloved community that Martin Luther King Jr. envisioned and how that dream can still become a reality; and the Atlanta Botanical Gardens. Nearby is Stone Mountain Park, where you can take a skyride to the top of the mountain and get an up-close look at the Stone Mountain Carving, take a scenic train ride around the mountain; or enjoy a paddle wheel riverboat cruise on Stone Mountain Lake. Atlanta surprised me and made me want to stay longer. No doubt, I'll be back at some point.