My laundry is done. My bills are paid. The house is clean. I'm up to date on my blogging and the first chapter of my book is all but complete, so I decided to take today off and just plain have fun in Sarasota all day long. I started early, walking the six blocks to the weekly downtown Farmer's Market at 7 AM, wearing my jeans and a jacket for the first time this season, since the temperatures were in the chilly 50's. Aside from the fact that I can get all my fruits and vegetables direct from local organic farmers at this market, I also love it because it's a great venue for people-watching.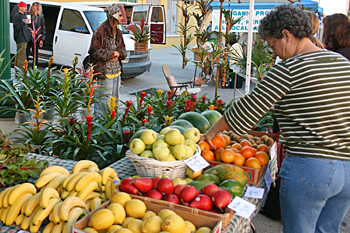 This morning, however, It was more about doggie-watching. There are always dozens of dogs at any event in Sarasota and the Farmer's Market is one of the more popular dog destinations. I've always known that pets are sacred in this town – heck, there's a downtown store named Petropolis that carries only pet-related items and there's a gourmet dog-bone booth at the Farmer's Market – but I guess I was more aware of it this morning because all the dogs were dressed up in their winter togs due to the chilly weather. In fact, the other day when I was at St. Armand's Circle I snapped this photo of a sign outside an upscale restaurant. As if to confirm my "dogs are king in Sarasota" theory, in the middle of the Farmer's Market I happened upon this bowl of water set out for our furry friends – complete with ice cubes!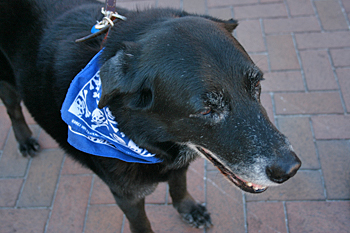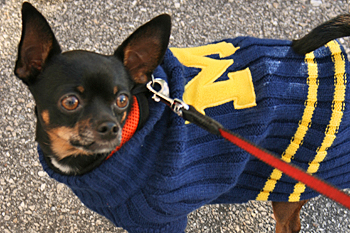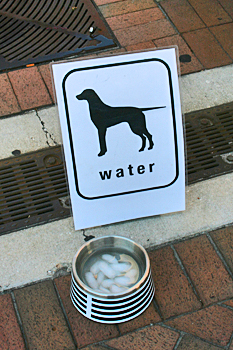 By 9AM I was back home. With the produce unpacked, I was ready for the next event, a clothes swap organized by my friend Leah at her downtown condo. The idea is that you donate any clothes you no longer want, swapping them for items that others have brought – FOR FREE! It wasn't the melee you might expect whenever the word free is used. It was all about women helping each other. We all spent as much time running around to other women, saying "try this on, because it would look SO good on you," as we did finding things for ourselves. It was so much fun. One of the more hysterical moments was when one of the women modeled a black bustier she found in the pile. Someone wanted to know who had donated it and Leah told everyone I had, but when they all looked at me, I denied it. My roommate, Joan, gave me the strangest look and I suddenly realized it had been mine! It was from a time in my life that was so long ago – when I had lost a lot of weight, was wearing a size eight, and felt like a sexy young thing. Even so, I never wore it (frankly, I can't really claim to be a sexy kinda woman). I can only imagine the look on my face when I remembered it was mine, but it must have been precious because it certainly got a laugh.
Both Joan and I left with huge bags of clothes. I hit the mother lode, coming away with two stunning dresses that still had the price tags on them and a couple of designer tops from Italy! I have absolutely no idea where I am going to put them – my closet is already overloaded. But at least I no longer have to find a place for the sexy underwear.
At midday I ditched the jacket, since temps had returned to the high 70's, and once again hit the streets, walking back through downtown to the Burns Court neighborhood to attend the first annual Avenida de Colores (Avenue of Colors) event.
Modeled after an art form that originated in Italy, this is a two-day competition for artists who recreate paintings of the Great Masters on the street with chalk. In fact, I witnessed this art form when I was in Florence this past summer, and I was curious whether artists in the States would be as proficient as their Italian counterparts. It can't be easy. The artists sit in the middle of the street as the sun beats down on them, bent over their works with intense concentration. Their hands, arms, legs, and brows (from brushing off the beads of sweat) are covered in chalk.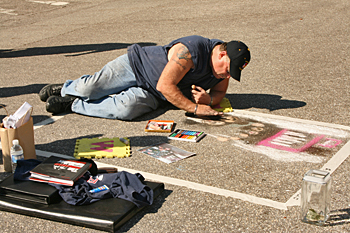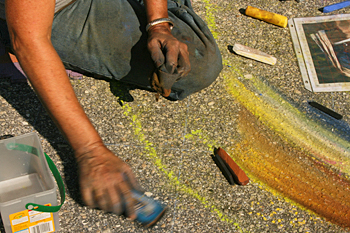 Spectators often walk up to the art-in-progress, unthinkingly casting a shadow on the very spot where the artist is working. Others interrupt with a litany of questions and in every case, the artist patiently and graciously stops working to answer. As you can see by the photos, some of the pieces are truly spectacular, given that they are being created using only chalk on a rough asphalt surface. I'm anxious to return tomorrow and see who wins the competition, but I'll just bet it's the "painting" of the woman in the blue headscarf.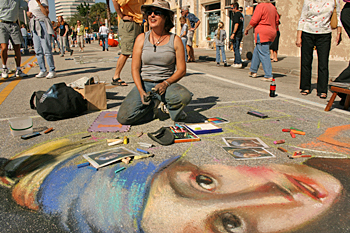 Tonight, I'm going to the movies. The Sarasota Film Society 18th Annual Cine-World event is in progress and for the next 12 days, 49 different art films are being shown at the Burns Court Cinemas. These are not your typical Hollywood films – they're the type of films not normally shown in the theaters because they appeal to a small audience and are not commercially viable. This year there's a whole category called "Spotlight on Israel" and another called "Focus on France." Many of the films are documentaries that examine hot political issues such as the Iraq war, torture practices in Afghanistan, and the genocide in Darfur. There are even two categories in homage to Melville and Bergman. I'd never have had an opportunity to see these films if I was still living on the Outer Banks of North Carolina. The Outer Banks is a beautiful place, but basically it's a cultural wasteland. The theater there even refused to screen Brokeback Mountain for fear it would offended the residents' right-wing, bible-belt mentality. It's wonderful to finally be living in a place that affords so much in the way of culture. I'm a happy camper these days.