There's always something going on in this town. Today, for instance, I went for one of my long walks and set out in the direction of the beach. I never made it – I got waylaid by by a Dance. Yep, a Dance, with a capital "D." This particular "Dance" is part of a collection of more than two dozen sculptures by artists from all over the world that will be on display in Bayfront Park for the next six months, and it is anything but a traditional dance.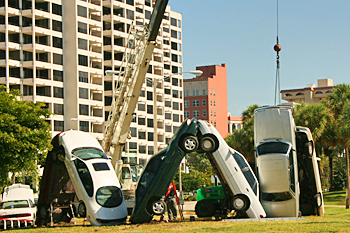 The sculpture entitled "Dance" is a circle of 12 junked cars that have been heaved into the air with a crane, stood upright on their front bumpers, and balanced upon one another, creating something akin to a modern day Stonehenge. I had a bit of a hint that something was going to be happening on this particular corner. Last night, on my way home from St. Armand's Circle, I noticed a bunch of cars parked in the grassy median at Tamiami Trail and Gulfstream. That in itself was not so surprising. It was the yellow "Do Not Cross" police tape surrounding the cars that briefly caught my attention. But then I went through the intersection and forgot all about it – until I walked by again today.
I came upon "Dance" in mid-setup. Five of the cars had already been stood on end and a crane was hoisting the sixth one into the air. It was fascinating to watch the cars being jockeyed into place, precisely tilted and leaned upon one another, and secured with thick steel cables.
The artist, Dustin Shuler, was kind enough to explain to me that this is all part of Sarasota's fourth annual Season of Sculpture. When I asked him what inspired his sculpture he smiled and said, "I do strange and wonderful things." Strange, yes. Wonderful, well, the court is still out on that assessment.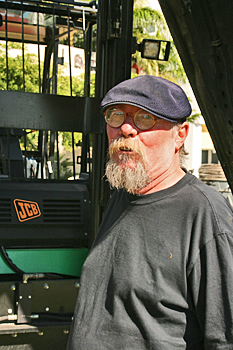 The non-profit organization that manages the event states that their objective is to make Sarasota "a preeminent destination for artists and visitors," adding that their mission is "to bring large-scale public works of art, created by world-class sculptors, to Sarasota." Since in excess of 150,000 visitors are expected to come to Sarasota specifically to see the sculpture, it would seem the organization has achieved their objective of making Sarasota an art destination. Whether or not they are bringing world-class sculpture to Sarasota is, however, a subject of hot debate even before the event officially opens on November 11th. The poll of the day in today's Sarasota Herald Tribune asks the question: "Can an arranged circle of junked cars be art?" and asks the reader to choose from the following answers:
Yes, depending on how they are arranged
Yes, if the artist says it is
Yes, if enough people take pictures of it
No, it is ugly
No, it's an art hussle (sic)
Another sculpture that is being referred to as "The Tooth," was until this week one of many odd public sculptures displayed along a New Jersey highway. According to one of the artist's assistants, the correct name of the 15-foot tall molar is "Comprehension," a reference to the artist's study of his own molar some 24 years ago upon the occasion of its extraction. Lovely. One local artist is already being quoted as saying that the sculpture is "irrelevant."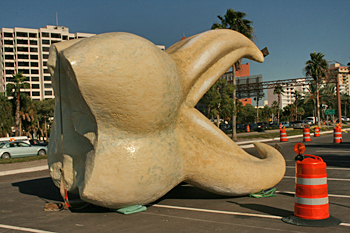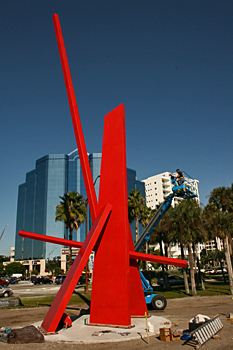 "Star Pointer," by John Henry, is more to my liking. The main spire of this seven-story high, bright red metal sculpture points heavenward, as if a beacon for our star sisters and brothers. Few will be able to find fault with its clean lines and impressive design. But whether or not you think these sculptures are art or a poor excuse for art, you have to agree that their presence creates a stir that gets people talking, arguing, debating….and that means never a dull moment in Sarasota. Like I said, ya' just gotta love this town.