The fast ferry made the trip from Auckland to Waiheke (Why-HICK-ee) Island in a flat 35 minutes. One of the many volcanic islands that dot the bays around Auckland, Waiheke has long been a favorite of New Zealanders (it is where they go to get away from it all) and it is easy to see why.The scenery is simply stunning. Jagged black basalt cliffs soar over seas ranging from blue-grey to midnight to aquamarine. Pretty black sand beaches tuck themselves between towering walls of lava. At low tide, pools stained with multi-colored algae offer up their micro world for exami- nation. Here and there, exposed sandstone and feldspar paint the rock walls in golds and reds. And deep, luscious green grasses have taken hold in the rich volcanic soils.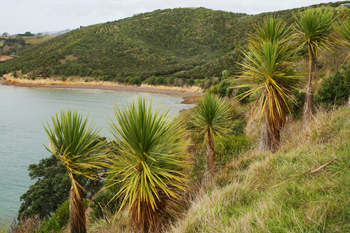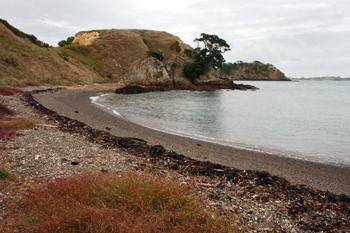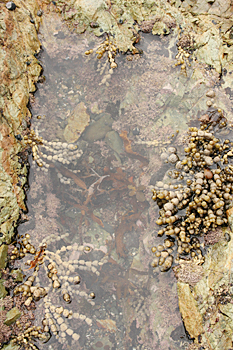 What is perhaps most unique about Waiheke is that a series of interconnecting trails criss-cross the island, making its beauty accessible to anyone willing to make the effort. It is for these trails that I came to Waiheke – I hoped to complete two of the loops. I picked up a trail guide from the brochure rack inside the ferry dock and asked which of the trails would have the most stunning scenery. The man at the information counter suggested that I take the track on the north side of the ferry dock by going around the dinghies at the water's edge, then following the bay around until I picked up the path. As an aside he added, "Ah, well, it's high tide at the moment but I think you should make it around the rocks OK." That should have been my first clue about what I was getting myself into.
I followed the black pebbly bay until I reached a cluster of rocks projecting out into the water. I might possibly have been able to pick my way around them were it not for the huge Live Oak tree growing out from the top of the pile of rocks. I decide the only way to get to the other side was to inch around a narrow ledge on outer edge of the rocks until I reached the tree, then go up and over from that point on what appeared to be a vague path.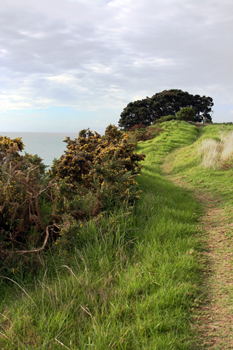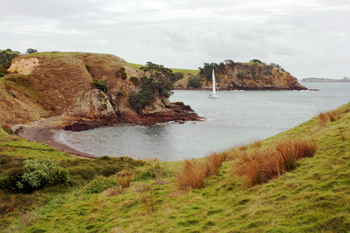 The only thing I hate worse than walking on rocks is walking on wet and slippery rocks – this qualified on both counts. Under normal circumstances I am not the most sure-footed person because I have a bad left knee, but at the moment I also have a sore right ankle from a fall I took fell yesterday when I wasn't watching where I was going. My plan to hike Waiheke was turning into a disaster but I wasn't yet ready to admit defeat. This denial is in large part due to the fact that I am getting older and I hate to admit there are things I can't do anymore. Sometimes I attempt to do things just to prove to myself that I am still capable. Slowly and shakily I edged around the rocks, then started climbing. I was doing OK until the path went back down again – steeply. Uphill I can do, but steep downhill slopes are more difficult because of my weak knee. I would have sat on my butt and inched down except for the prickly cactus lining the narrow path. There was no going back now – I wasn't about to repeat the rock process.
When I finally cleared the cactus the track headed up steeply. The trail was nothing more than a dirt path about six inches wide, perched precariously close to the edge of the cliff as it wound up the rock face. I could feel the panic rising in my chest as I climbed higher and higher along the sheer dropoff. Beads of sweat doted my brow and upper lip, despite temperatures in the mid 60's. My mind was going a mile a minute. What if I can't do this and I get stuck half way? What if I fall off one of these cliffs onto the jagged rocks below? What if I get lost? I was high up onto the headland by now and fairly rattled by the dizzying heights with no guard rails. My feet were faltering. I was unsure of every step I took. I needed to get a grip. Time for a walking meditation. I stopped for a moment to compose myself, then continued walking, whispering the mantra, "Be one with the path." I told myself to concentrate on placing one foot firmly onto the ground in front of me, followed by the other foot. Think about the path and only the path. Feel my connection to Mother Earth with every step. See the beauty surrounding me and let go of the fear. Above all, breathe. It worked like a charm! Soon I was tripping along like an old hand and enjoying the hike.
Although the guide book said the hike would take between three and four hours, it took me about five – I don't think they included stops every five seconds for photographs in their calculations. It was a tough track – very physically demanding – but I persevered and I am so pleased that I did because it provided me with some of the most stunning photos I have ever taken, which I can now share with you. I guess I'm not ready for the retirement home yet, eh?