One of the first things I'm going to do when I get home from Key West is go to the Opera. I've made the acquaintance of a couple of the musicians who play for the Sarasota Opera every year. I met them because my house-mate, Joan, is away for two months visiting her mother in Louisiana, so she's rented out her bedroom to Sascha Jacobsen, who is the bass player for the Opera.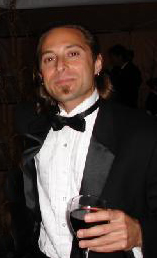 This is the second year that he's roomed at Joan's place and I have really liked having him around. Aside from the fact that it's nice to have a man around (he takes out the garbage and fills the bottle for the water cooler – it's a requirement for men), the house is often filled with music and he's brought some of his fellow musicians around to meet me – like Kelly, who plays the violin for the Opera. So given the fact that I have never seen an Opera I have a sudden curiosity about it.
Opening night was last weekend, featuring Madame Butterfly. Two nights later they were performing Halka and Sascha asked if I would mind driving him to the Opera house. He's here for two months and shipped his bicycle, but the bike just doesn't cut it when he's all dressed up in his tux and it's raining. During the short four block ride he described the plot of Halka:
"It's the story of a peasant girl in love with a nobleman. She is pregnant with his child and thinks he is going to marry her. Instead, he marries a woman from a wealthy family. It ends with Halka throwing herself over a cliff," Sascha explained. "That's what I like about Opera," he added, "It's always so happy."
I plan to attend Madame Butterfly, because Sascha says it's the one to see if I've never been to the Opera. I'll let you know my take on it after I've seen it. In the meantime, I'm posting a couple of photos of Sascha that I swiped from his web site so that all you young things out there can drool over him and envy me.