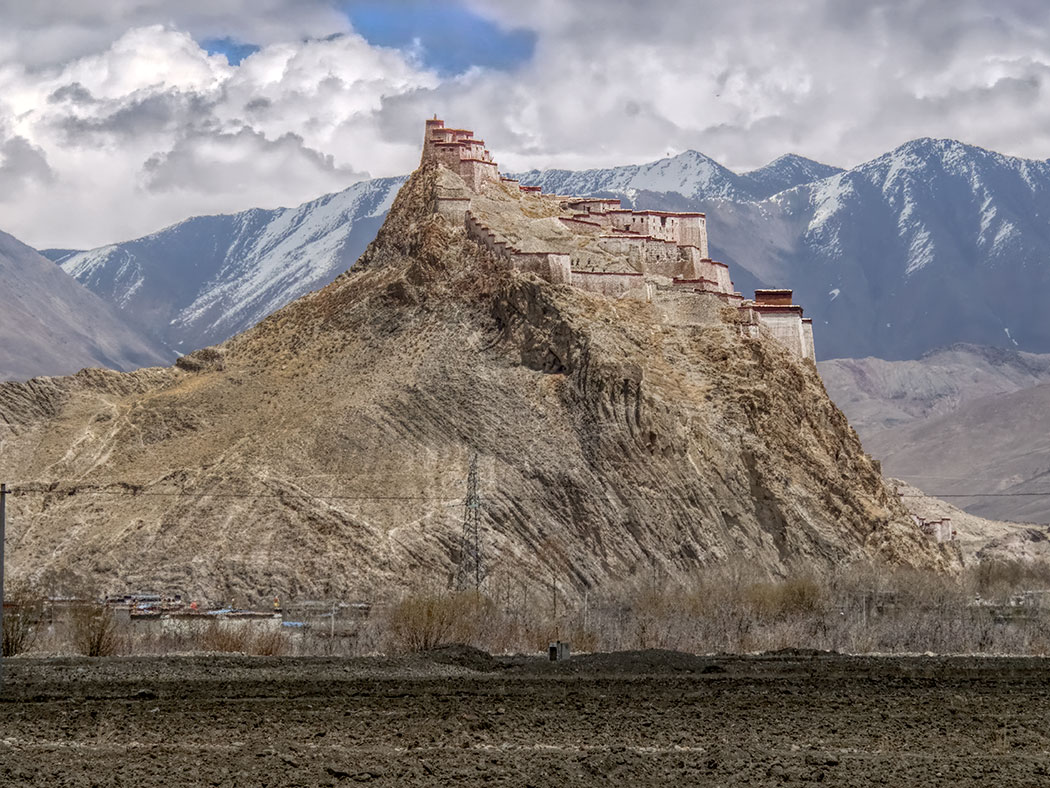 For nearly 800 years, the walls of Gyantse Dzong (Gyantse Fortress) have scrabbled down a barren outcropping of stone just outside the town of Gyantse. Built as the seat of government for this county in southern Tibet, it originally held the office of the county magistrate, a scripture hall, Buddhist worship hall, and sundry storehouses. Over the ensuing centuries the complex was expanded, taking on the role of fortress to protect the important trading center of Gyantse against invaders. Indeed, Gyantse Dzong withstood all attacks until 1904, when the British invaded Tibet.
In Gyantse, the British Army encountered unimaginable resistance. Armed with only miniature cannon balls, for nearly three months fierce Tibetan fighters held off forces equipped with far superior machine guns and ten-pound cannons. Gyantse Dzong finally fell after heavy artillery hit a gunpowder magazine. The resultant explosion blew a large hole in the walls of the fortress, allowing attacking soldiers to flood inside. The remaining Tibetan fighters jumped off the cliff to their deaths rather than surrender. Perhaps hoping to send a message, British forces left the fortress in ruins.
The fort sustained further damage during the Cultural Revolution, but has since been largely restored. Today it contains a small museum and a plaque placed there by the Chinese government, which proclaims it a "Hero City," in honor of the resistance shown by Tibetans during the British invasion.
Author's note: After many years of trying to visit Tibet, I was finally successful with the assistance of Himalaya Journey. One of the joys of traveling with this small group tour operator (my tour was limited to eight participants) was that our guide and driver accommodated all requests to stop for photos, in places where other tours don't or won't. As a result, I was able to capture this astonishing view of the fortress with towering mountains as a backdrop.