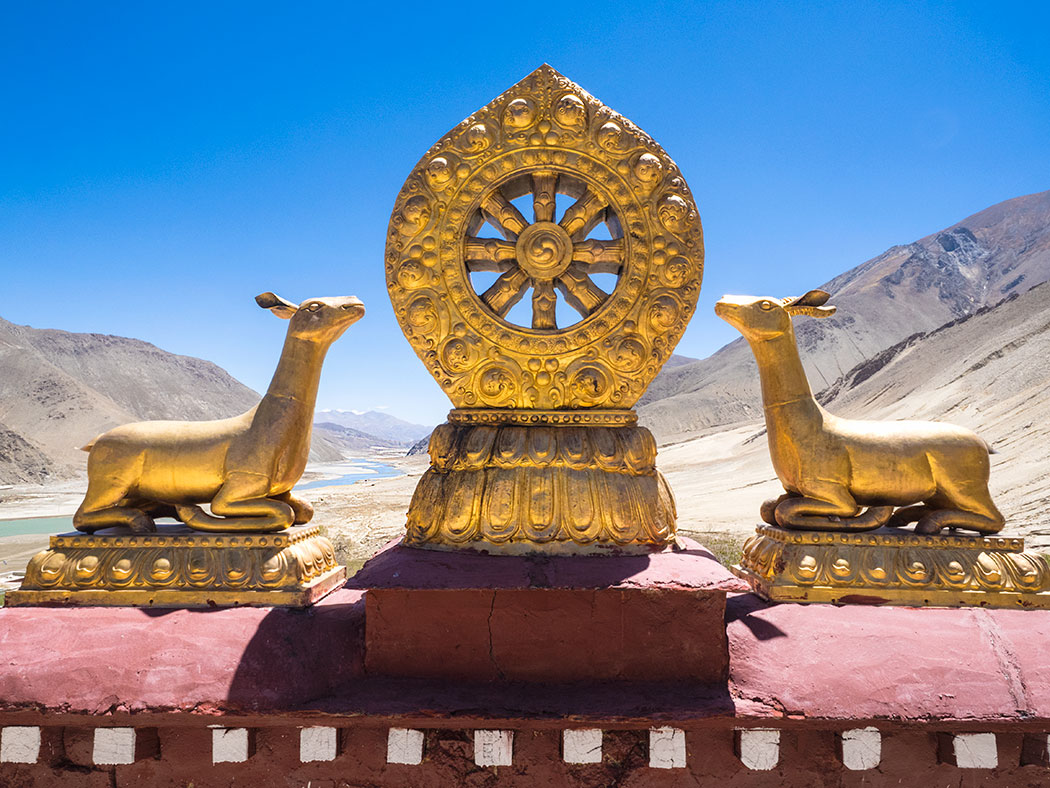 On day seven of my overland journey through Tibet, we turned off the main highway and followed a narrow lane to the remote Phuntsoling Monastery. This little-known monastery was built in 1615 by great master Jonang Taranatha. He espoused the concept of Shentong, a hard-to-grasp ideology based on the idea that the Buddha-mind is ultimately empty, even though all forms are empty illusions. The Jonang teachings were not looked upon favorably by the four main Buddhist traditions. As a result, in the 17th century the 5th Dalai Lama forced the monastery to convert to the Gelugpa tradition.
One of the senior monks took us on a tour of the facilities while our guide translated. Phuntsoling Monastery was used as a grain storage facility during the Cultural Revolution, thus it escaped the destruction suffered by thousands of other religious centers. Scores of 15th century murals and paintings survived and are still clearly visible on the walls of the main Assembly Hall. They depict the four universes of Buddhism as well as scenes from the life of Buddha.
The main chapel of the assembly hall houses a bronze statue of Shakyamuni Buddha, said to have been cast in the 7th century in Bodhgaya, India. Disputes arose between regional kings about where the icon should be displayed. It was transported to Nepal, then to the Potala Palace in Lhasa, Tibet, eventually ending up at Phuntsoling Monastery by virtue of the region's powerful king. During the Cultural Revolution it was moved to mainland China for protection, then returned to Phuntsoling during the 1980's, minus one ear. Incredibly, an old woman in the village had found and preserved the ear. When the statue was returned to Phuntsoling, she offered it back to the monastery so it could be made whole again.
After touring the hall, our group was scheduled to hike up to the ruins of a fort that offered spectacular views of the valley below. I was too knackered to make the hike, so I stayed behind, chatting with the resident monks and snapping photos of their pet yak when it bounded down the stairs at feeding time. While waiting, I wandered up to the roof of the monastery, where I found this golden rooftop ornament and my very own picture postcard view of the river valley and Tibetan plateau.
Author's note: After many years of trying to visit Tibet, I was finally successful with the assistance of Himalaya Journey, an absolutely fantastic company that specializes in small group tours of Tibet, Bhutan, Nepal, and India.