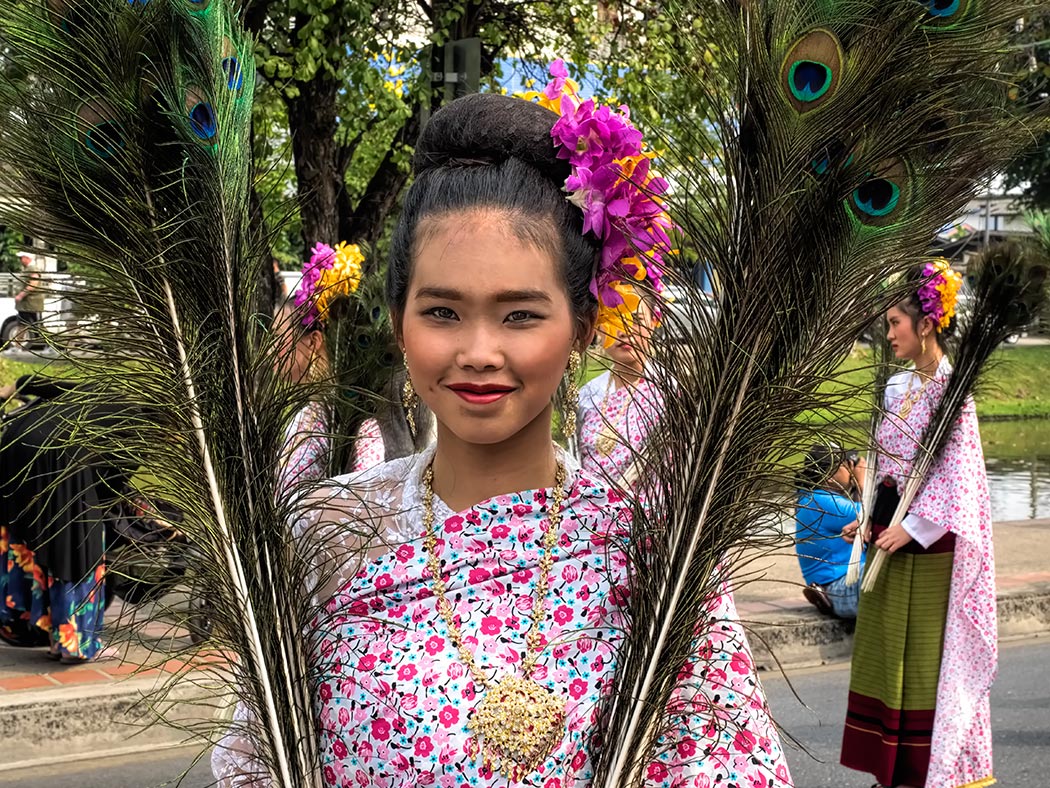 A women in traditional dress marches down the parade route during the 2018 Flower Festival in Chiang Mai, Thailand. The annual event is held during on Friday, Saturday, and Sunday of the first week of February. The highlight of the Flower Festival is the Saturday morning parade, which features flower-bedecked floats, marching bands, and groups of men and women who, like this beautiful young woman, proudly wear their traditional ethnic garb. This woman is wearing a silk striped longyi (an ankle-length wrap-around skirt) and traditional white lace blouse, which is topped with a colorful flowered sash. Her hair is done up in a traditional bun and decorated with fresh orchids. The crossed peacock feathers are a final touch that are not only beautiful, but have religious significance. In Buddhism, peacocks are a symbol of wisdom, thus they are a common motif found in Thai dress. Many beautiful ball gowns are embroidered with images of peacocks in full tail feather display.
The parade begins at the foot of Nawarat Bridge over the Mae Ping River and proceeds down Thapae Road to Thapae Gate, one of the ancient gates in the massive brick walls that once encircled the original walled Old City. From there, the parade turns south and follows the moat to the southeast corner of the Old City, where it once again turns to the west. The route ends at Buak Haad Park, a lovely public park on the southwest corner of the Old City, which is itself lavished with displays of fresh cut and planted flowers and blossom-covered tunnels and arches. Outside the park, booths display exotic flowers that have been previously judged by a panel of floral experts. The Flower Festival in Chiang Mai is one of the few places to see the Damask Rose, a variety of rose found only in Chiang Mai, which has earned the city the nickname, "Rose of the North."
If you enjoyed this story, you may also want to read this one about the Chiang Mai Gate Market.