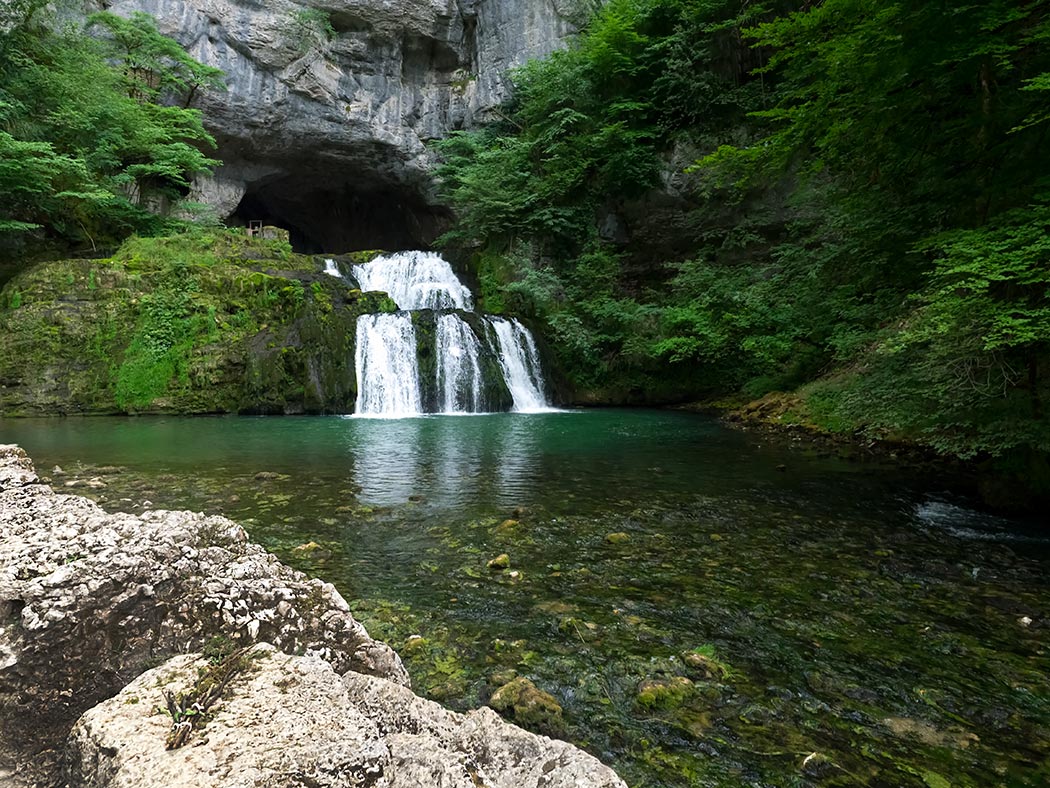 In ancient times, the water flowing from this cave near Nans-sous-Sainte-Anne, France, was believed to be the source of the Lison River. Today geologists know that the river starts much further up the mountain, disappears into the porous Karst limestone that lies beneath the river, and re-emerges much further below, through this cave. The waterfall flows all year long, though it is most spectacular in spring. I visited in late June, so it was a mere rivulet of what it is during times of snow melt or heavy rains.
A nicely done display at the park entrance provides information about the geology and wildlife of the area. From there, a short, level trail leads to the waterfall. The more adventurous will want to scramble up a steep patch aside the falls to view it from the cave. It is apparently possible to traipse through the cave to the point where the roof has collapsed, however only during times of reduced flow. In the spring, roaring waters fill the cavern. The source of the Lison was the first ever natural site to be designated in France. Not only is it an interesting geologic destination, the area is also  home to a number of endangered species, including the Eurasian eagle-owl.
Author's note: I was a guest of the Comté Cheese Association during travels through Franche-Comté. However, the receipt and acceptance of complimentary items or services will never influence the content, topics, or posts in this blog. I write the truth, the whole truth, and nothing but the truth.