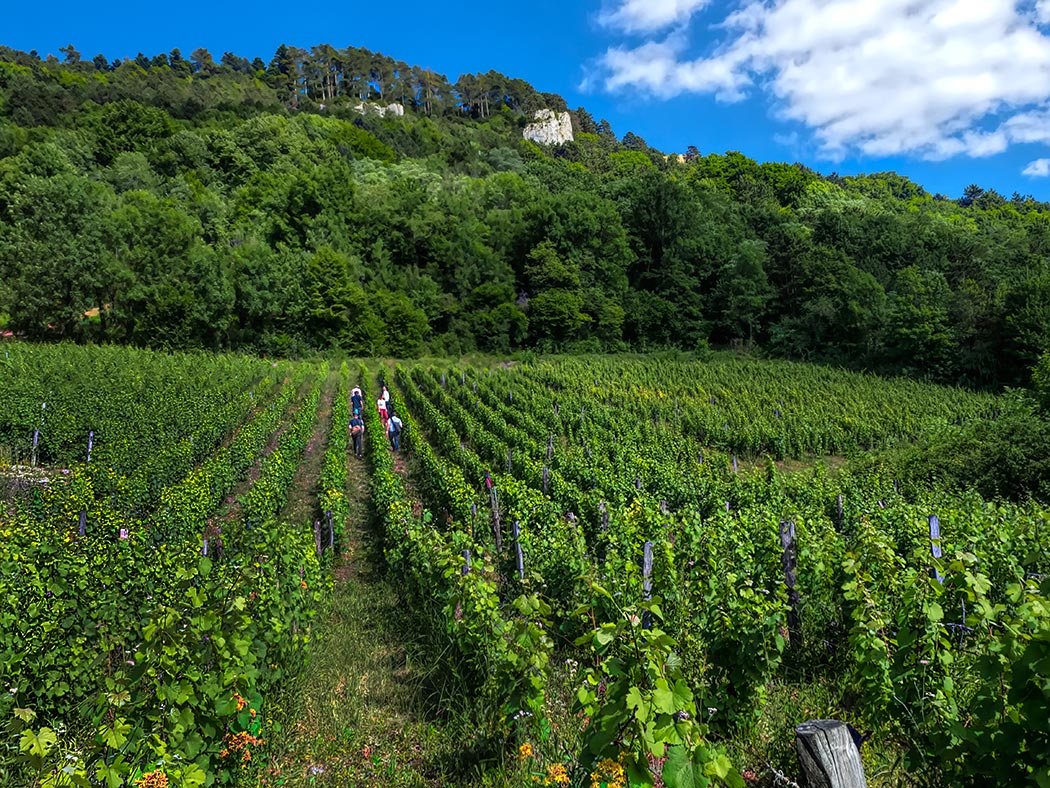 The Franche-Comté region of France may be most famous for the Comté cheese produced there, but it is also home to specialty vintners who produce distinctive wines. One of these is Ludwig Bindernagel and his wife Nathalie, who welcomed me into their home to sample some of the best of Poligny wines. The Bindernagels, who originally hail from Munich, relocated to this mountainous region of eastern France in the early 2000's. They bought a small plot of rolling land (about 6 acres) in Poligny and planted vines. Two years later, Ludwig bottled his first vintage, a wine that he dubbed BB1 (for "baby one").
Because Ludwig was an architect by trade, he was unencumbered with ideas about the way things "must be done." He aimed for diversity on his small hillside, allowing different varieties of grapes to intermingle. He uses no chemicals on his vines and allows grass to grow tall between the rows. He produces the wines in his own cold cellar, using old wooden casks, native yeast, and long, slow fermentation.
To supplement their income from the wines the Bindernagels welcome guests into their big stone mansion, which they have named Les Chais du Vieux Bourg. Having learned that his wines were all the rage in Paris and New York, I was curious about the local demand for Poligny wines. "Could a resident of Poligny knock on your door and buy a bottle?" I asked. "Of course," he answered. Then he smiled broadly and added in his soft-spoken way, "If they knew I existed."

Author's note: I was a guest of the Comté Cheese Association during travels through Franche-Comté. However, the receipt and acceptance of complimentary items or services will never influence the content, topics, or posts in this blog. I write the truth, the whole truth, and nothing but the truth.