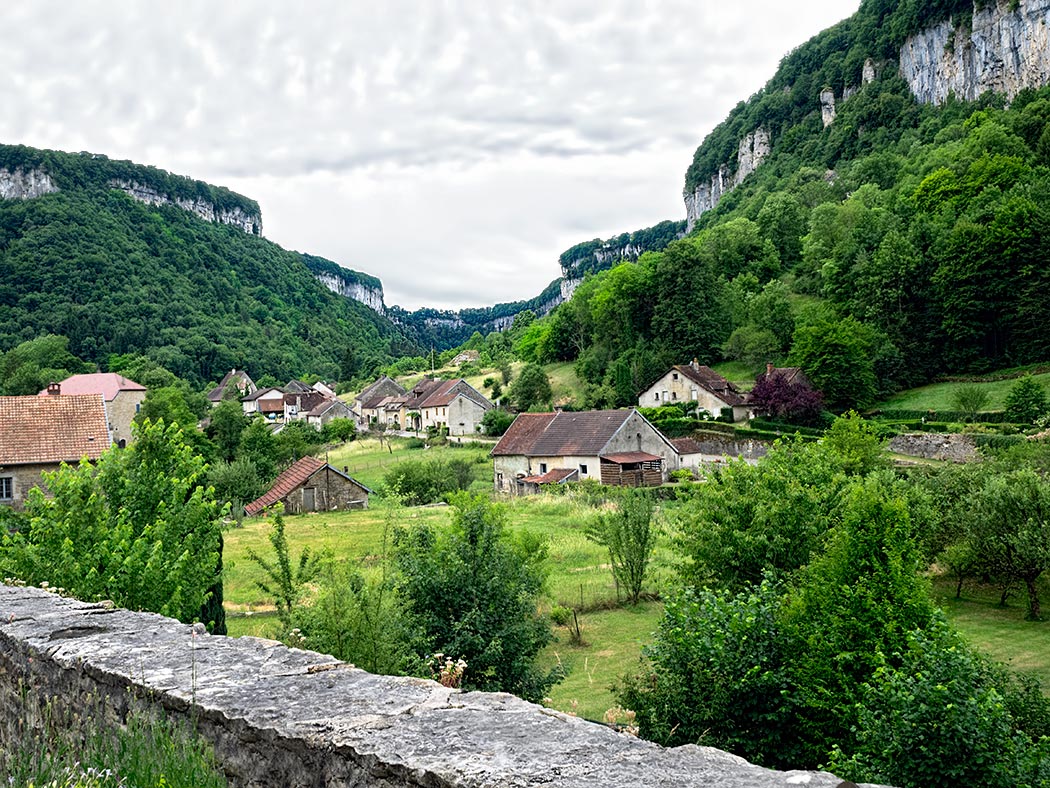 Even a grey, overcast day can't hide the stunning beauty of Baume-les-Messieurs, France. Located in the Jura mountains of eastern France, it enjoys the status of one of the "Plus Beau Village de France" (most beautiful villages in France). I was in the area to learn about my favorite cheese in the world, Comté, which is only made in the Franche Comté region in eastern France. To my delight my hosts, the Comté Cheese Association, not only arranged for us to visit the farms, dairies, and aging cellars where Comté is produced, they also took us to some of the more spectacular destinations in the region. While learning about Comté was the highlight of the trip, I must admit that my jaw dropped when we rounded a curve at the top of the Jura escarpment and began our descent into Baume-les-Messieurs.
We were there only long enough for lunch. There was no time to visit the historic former Baume Abbey or the famous the Dard caves, much less hike to waterfalls or the nearby mysterious underground lake. Still, I was grateful to have glimpsed its beauty, and to be introduced to an area of France that seems to be so "undiscovered." During my week in the Jura Mountains, I saw few tourists. I found this to be remarkable. Not only is this one of the most gorgeous parts of France I've ever visited, there is so much to see and do Baume-les-Messieurs and other similar mountain villages in the region. The Jura Mountains, and Baume-les-Messieurs in particular, are now on my very short list of places to which I must return!
Author's note: I was a guest of the Comté Cheese Association during travels through Franche-Comté. However, the receipt and acceptance of complimentary items or services will never influence the content, topics, or posts in this blog. I write the truth, the whole truth, and nothing but the truth.