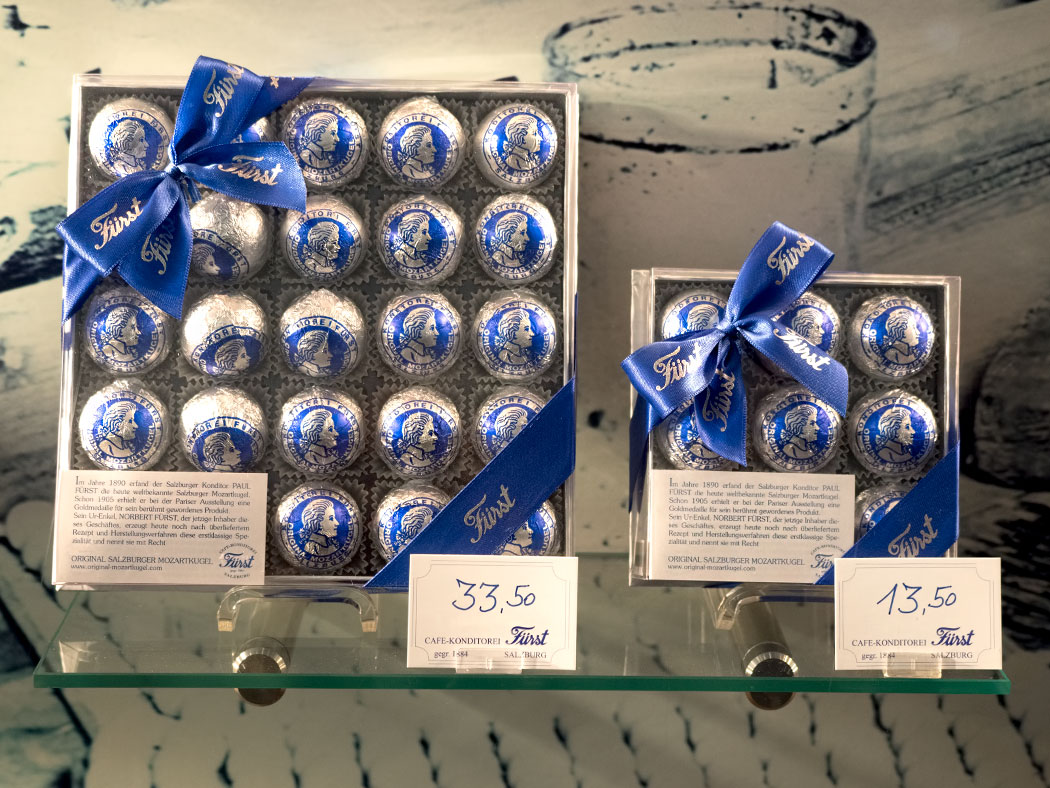 Salzburg, Austria, is best known for its historic old town, castles, and age-old churches. But for my money, the real reason to visit this historic city is to taste one of the world's most delicious candies, the original Mozartkugel at Furst Cafe. This small, round ball was developed in 1890 by Paul Fürst, who came from a long line of confectioners. After lengthy testing he came up with the perfect recipe: a center of pistachio marzipan, wrapped in praline nougat, dipped in dark chocolate.
The Mozartkugel was such a hit that competitors began copying it. Furst was soon battling in court with the likes of Mirabell, Reber, and Nestlé to protect the name. Today there are many imitations, but Furst Cafe is the only manufacturer who has the right to call the bonbons "Original Salzburg Mozartkugeln." Competitors continue to mimic the product with similar names and packaging, however the courts have ruled that look-alikes must have one flat side. Furst is the only confectioner allowed to produce a round ball.
After relating the history of Mozartkugel, our guide added a bit of trivia about the candy's name. Furst always admitted he named the balls after the famous composer and Salzburg native son, Wolfgang Amadeus Mozart. Our guide insisted that Mozart's sister used the candies as a bribe to keep the young prodigy practicing the piano. Since Mozart was performing concerts by the age of five, I suspect this is just a bit of fluff. But it makes for a good story, even if it was whipped up by some over-enthusiastic marketing type.