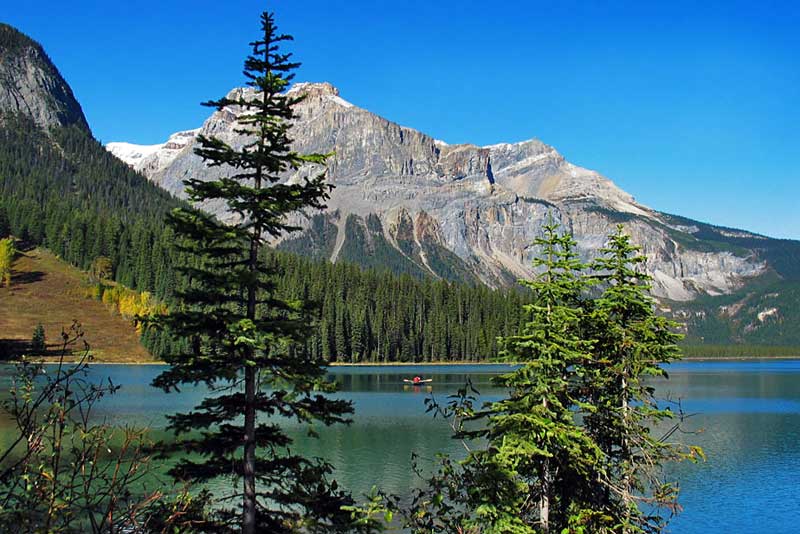 Canada is known for its spectacular National Parks. Both Glacier and Banff National Parks enjoy worldwide notoriety. But tucked between the two is a third, the lesser known Yoho National Park. Most who visit Yoho do so because it is on the way to Banff's famous Lake Louise, or when they stop for lunch in the pretty little town of Field. Yet while Lake Louise attracts massive crowds of tourists each summer, pretty little Emerald Lake in Yoho National Park sits by in relative obscurity. In fact, if not for the main road through the park passing directly by the lake, few travelers would even know it is there.
Like most, I saw Emerald Lake from a pullout on the road. There was no mystery about how the lake got its name. In the midday sun its surface reflected deep, rich hues of emerald green. And like most, after soaking in the view I got back in the car and continued on to Banff National Park, where I fought the crowds and paid eye-wateringly high prices for my accommodation on Lake Louise. Later, I looked up Yoho National Park to see what else it offered. As a lifelong fossil-hunter, I was appalled to learn that I had missed out on visiting the Burgess Shale fossil deposit, which is famous for its exceptionally well preserved fossils of soft-part creatures such as worms.
I also missed Takakkaw Falls, the second highest waterfall in Canada. And though I drove for miles along the Kicking Horse River, I missed seeing the natural rock bridge over the river and the Kicking Horse Pedestrian Bridge in the town of Golden, which is is the longest covered wooden bridge in Canada. I'm thinking that Yoho National Park deserves a more thorough, leisurely return visit, one that includes a stay at Emerald Lake.