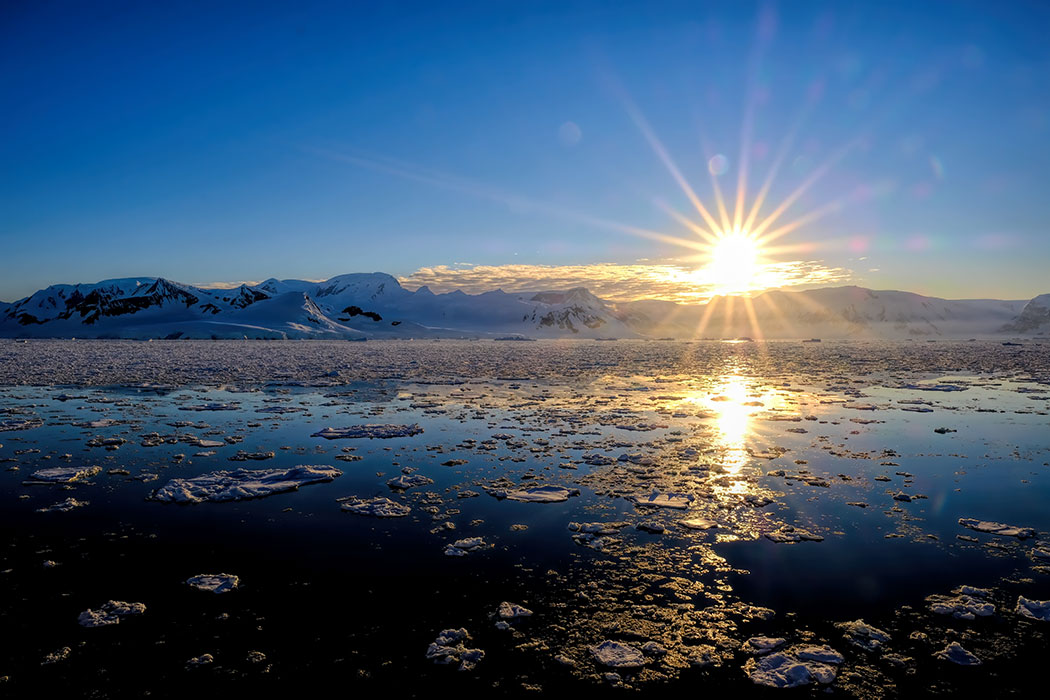 My time in Antarctica was coming to a close when the captain announced we would arrive at the Lemaire Channel early the next morning. Located on the western side of the Waddell Peninsula, between Graham Land on the continent and Booth Island, this narrow 6.6-mile long sea passage offers one of the most spectacular sights in Antarctica. Due to its sheltered location, the sea is almost always calm. The mirrored surface reflects the rugged cliffs on either side of the channel, providing stunning scenes that are a photographer's dream come true.
The captain had tried to enter the narrow passageway two weeks earlier but the sea ice had not yet broken up. With clear, sunny conditions during the past week, there was a good chance that it would finally be open for the season. Knowing that the call over the P.A. would come early (the captain said about 6 a.m.), I snuggled beneath my thick duvet and went to sleep early. It seemed like I'd just drifted off when the announcement grated through the P.A. I rolled over to check the time. 4 a.m.! I groaned and rolled out of bed, noting that light was already creeping through the blinds. There are precious few hours of darkness during the summer months in Antarctica.
Despite the ridiculous hour, I threw on some clothes and made a beeline for the main deck. We were at the head of the Lemaire Channel, pushing through massive chunks of sea ice. Immense slabs cracked and popped in protest as they were dragged beneath the hull. Each subsumed piece made the ship shiver like an old woman wrapping a shawl more tightly around her shoulders in the frigid air. The tremors passed through the hull to the deck, and into the rubber soles of my shoes. Finally, the sea ice grew too thick. I can't say I was sorry; I was growing increasingly uneasy each time the ship smashed into another hunk of ice. The captain turned back, but not before I captured this stunning starburst sunrise over the Lemaire Channel.
You may also enjoy:
The Ugly in the Beauty of Antarctica's Icebergs
Hunting the Northern Lights in Norway with Hurtigruten
Riding Norway's Spectacular Flam Railway