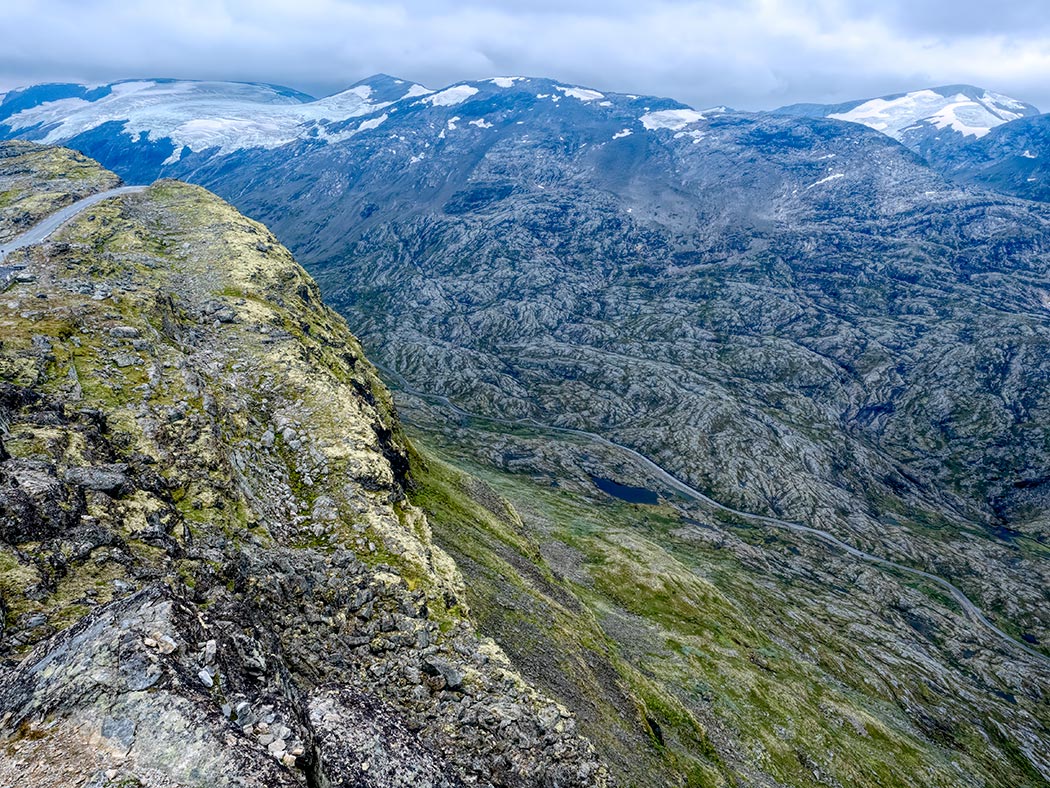 A still photo can barely convey the magnificence of the Norwegian landscape, but this view from the Geiranger Skywalk, perched on the craggy peak of Dalsnibba Mountain, comes close. We'd driven to the top along a ribbon of winding road, a portion of which can be seen at the bottom of the valley. Mesmerized by an otherworldly landscape of warped rocks and deep blue glacial lakes, conversation virtually stopped in the bus. We scrambled from side to side, snapping photos of one spectacular view after another.
But nothing we had seen during the ride compared to the panorama that spread before us as we crested the mountain. Norway's glaciers dripped down every peak like cream cheese frosting on a vast, crumbling cake. In awe, I climbed out of the bus and battled the blustery, frigid winds to reach the Geiranger Skywalk. Gingerly, I stepped out onto the platform and made my way to the glass guard rail.
Only then did I allow myself to look down. The only thing between me and the valley floor, thousands of feet below, was an open metal grid floor. My stomach turned over. I yanked my head back up and focused on the horizon. Quickly, I snapped the necessary photos and then made a beeline for the bus. I told myself it was just because of the wind and cold, but I wasn't fooling anyone. One more moment on that eerie deck that jutted out over empty space and I would have swooned from vertigo.
Author's note: I was a guest of Collette during my Spectacular Scandinavia tour. However, the receipt and acceptance of complimentary items or services will never influence the content, topics, or posts in this blog. I write the truth, the whole truth, and nothing but the truth.