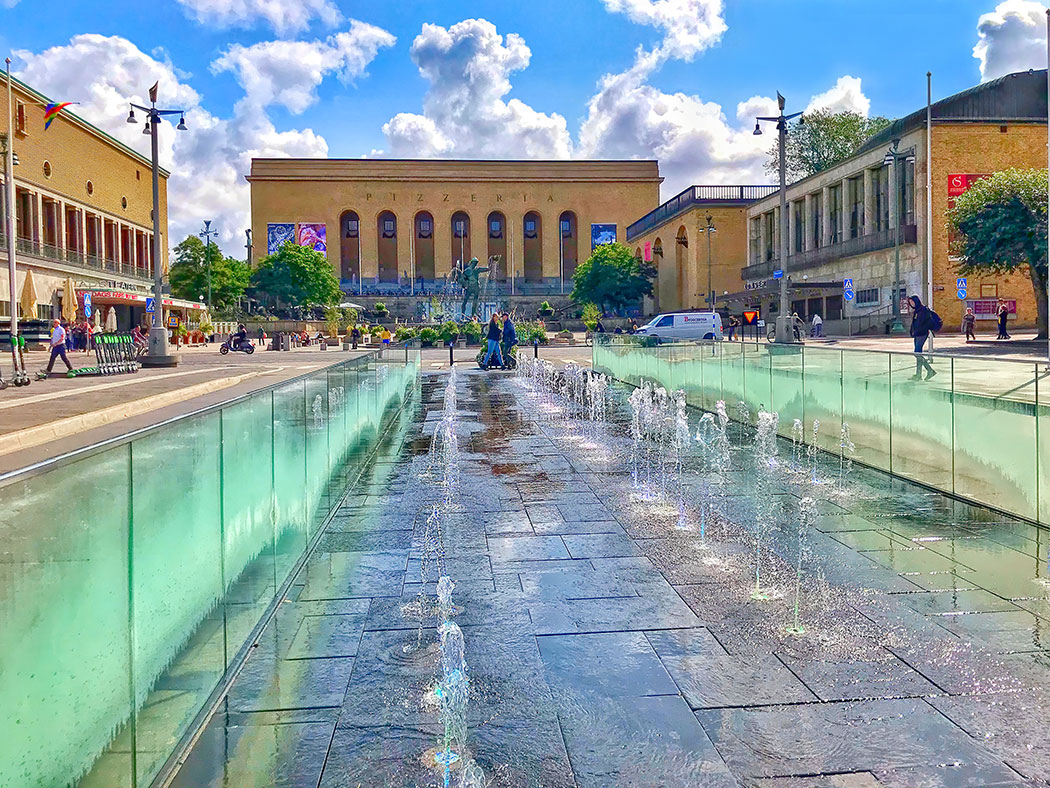 With only a couple of hours to explore Gothenburg, Sweden, I struggled over how to spend my time. My Collette tour manager had suggested a boat tour of the canals that lace the city. Never one to follow the crowds, I instead decided on a self-guided walking tour of the city center. Beginning at the bridge over the Kungsportsbron canal, I strolled down Avenyn, the main boulevard in Gothenburg. Scores of shops, restaurants, galleries, and clubs lined the broad avenue on its gently rising path to Götaplatsen, the city's main square. At the far end, I snapped this photo through a whimsical fountain, looking toward Götaplatsen.
The square was inaugurated in 1923 to memorialize the 300th anniversary of Gothenburg. At its center stands the Gothenburg Museum of Art, in front of which stands a landmark statue of Poseidon by sculptor Carl Milles. The Gothenburg City Theatre (far left) was opened in 1934, and the Gothenburg Concert Hall (far right) was was added a year later. Today the square is the cultural hub of the city. The concert hall is home to the Gothenburg Symphony Orchestra, and the City Library is also located here. During the city's annual culture festival, Swedish musical artists perform for free at Götaplatsen. I may have missed the canals and seaport, but I was happy with my discovery of the heart of the city.
Author's note: I was a guest of Collette during my Spectacular Scandinavia tour. However, the receipt and acceptance of complimentary items or services will never influence the content, topics, or posts in this blog. I write the truth, the whole truth, and nothing but the truth.