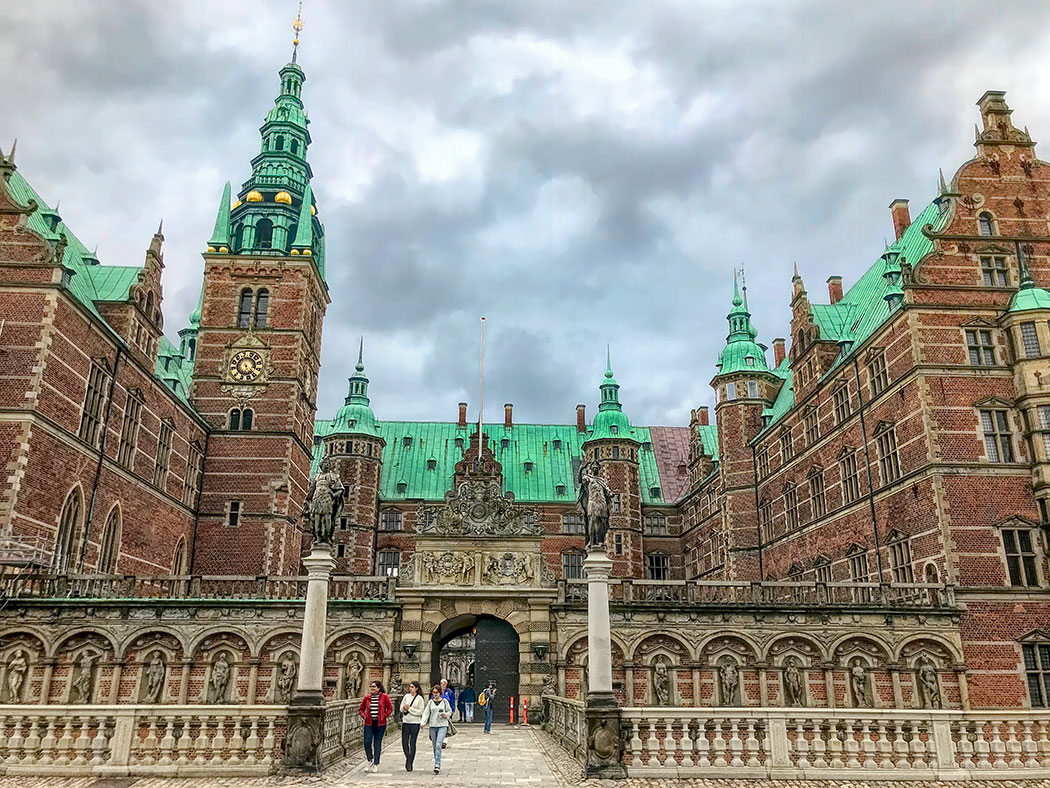 Though I'm usually quite lucky with weather during my travels, an occasional storm is unavoidable. But inclement weather isn't always a bad thing. Sometimes, it evokes a mood that seems perfectly suited to a site, and that's exactly what happened during my tour of Frederiksborg Palace. Within moments of our arrival, thunder rumbled overhead and fat drops began to splatter the gravel. Cruel clouds roiled and descended upon the palace. Surrounded by bruised light, the green copper roof and spires glowed wickedly, like the inside of a witch's cauldron.
The stunning Renaissance castle that splayed before me was originally built as a royal residence for King Christian IV during the early 17th century. In 1859, during the reign of King Frederick VII, a serious fire all but destroyed the original Frederiksborg Palace, though more than 300 historic portraits were saved. Frederick ordered the palace rebuilt to its original design. When completed in 1882, it was reopened to the public as the Danish Museum of National History. Today, guests are allowed to visit the sumptuous Grand Hall, the gilded Chapel, the King's bedchamber, the Audience Chamber, and a vaulted dining room for the king and his courtiers known as the Rose Room.
On the day I visited, gloom pervaded the interior of the palace as well. Room after opulent room featured the somber works of art that had been rescued from the 1859 fire. These important figures in Danish history comprise the largest collection of portrait paintings in Denmark. Almost all are all dressed in black, and of the scores of paintings on display only one man was smiling. This, according to our tour guide, was likely because everyone had rotten teeth back then. Somehow, that seemed particularly appropriate.
Author's note: I was a guest of Collette during my Spectacular Scandinavia tour. However, the receipt and acceptance of complimentary items or services will never influence the content, topics, or posts in this blog. I write the truth, the whole truth, and nothing but the truth.