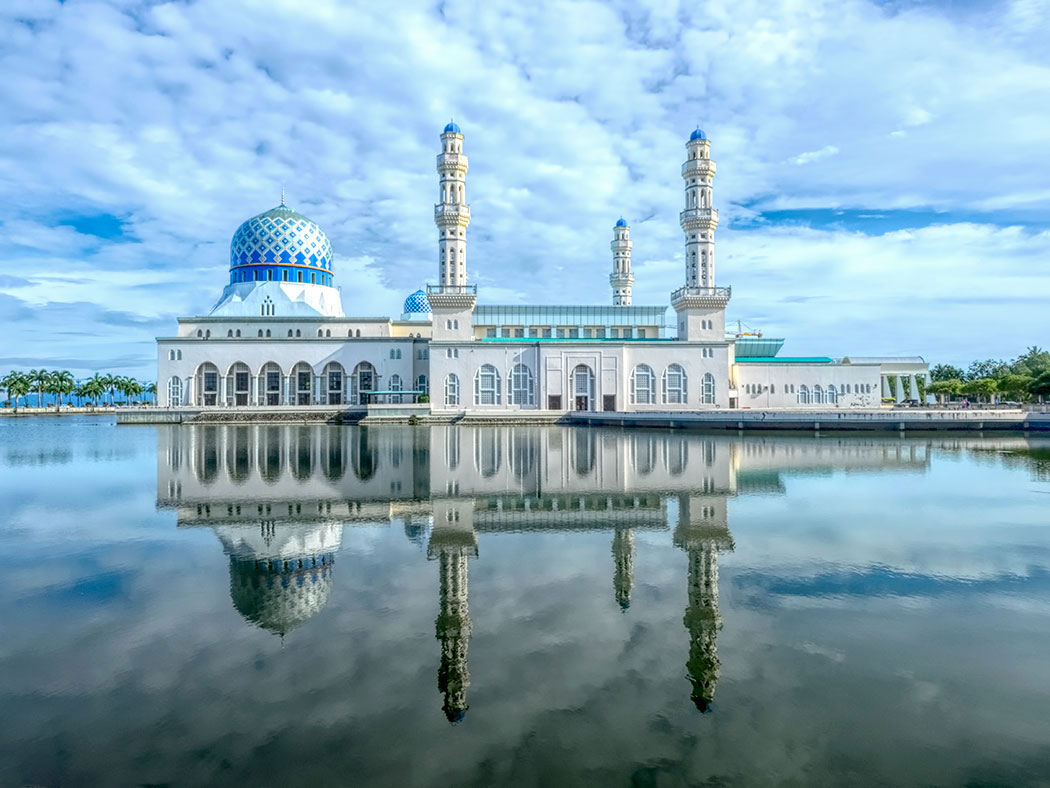 Kota Kinabalu City Mosque was the highlight of my half-day tour of Kota Kinabalu (KK), capital of the Malaysian State of Sabah on the island of Borneo. The mirror image of the mosque reflected in its surrounding lagoon has earned it the nickname "floating mosque." Knowing my tour would include a stop at an important Islamic religious site, I had dressed respectfully in long pants and short-sleeved T-shirt. Upon arrival, however, I found I had not dressed conservatively enough. Women are required to cover their arms from shoulder to wrist as well.
The issue of appropriate dress has recently been a hot topic of debate in Malaysian Borneo. In 2015 the Muslim community was enraged by a group of Brit, Canadian, and Dutch tourists who stripped naked and posed atop sacred Mount Kinabalu. In June, 2018, two Chinese tourists dressed in skimpy shorts climbed up on the low wall that surrounds the mosque and performed a syncopated dance while a friend videoed them. Soon after the video was published, management closed the mosque to the public while they decided how to handle the situation. It reopened on August 1st with new rules in place. All visitors must register at the front gate, where their attire is inspected. Those who are not properly dressed are now required to rent appropriate clothing.
My short sleeves meant I had to don a tudung (headscarf that covered all my hair) and juba (long robe that covered me from my neck to my ankles). With temperatures hovering around 97 degrees and extremely high humidity, I was exceedingly uncomfortable. I made a cursory circuit of the interior, which was uninspiring. Then, faint from the heat, I walked back to the entrance as quickly as the heat allowed and peeled off the rented garments. I ended my visit with one more view over the lagoon, drinking in the mosque's magnificent blue dome and four delicate minarets. For me, the true beauty of Kota Kinabalu City Mosque was its stunning exterior.