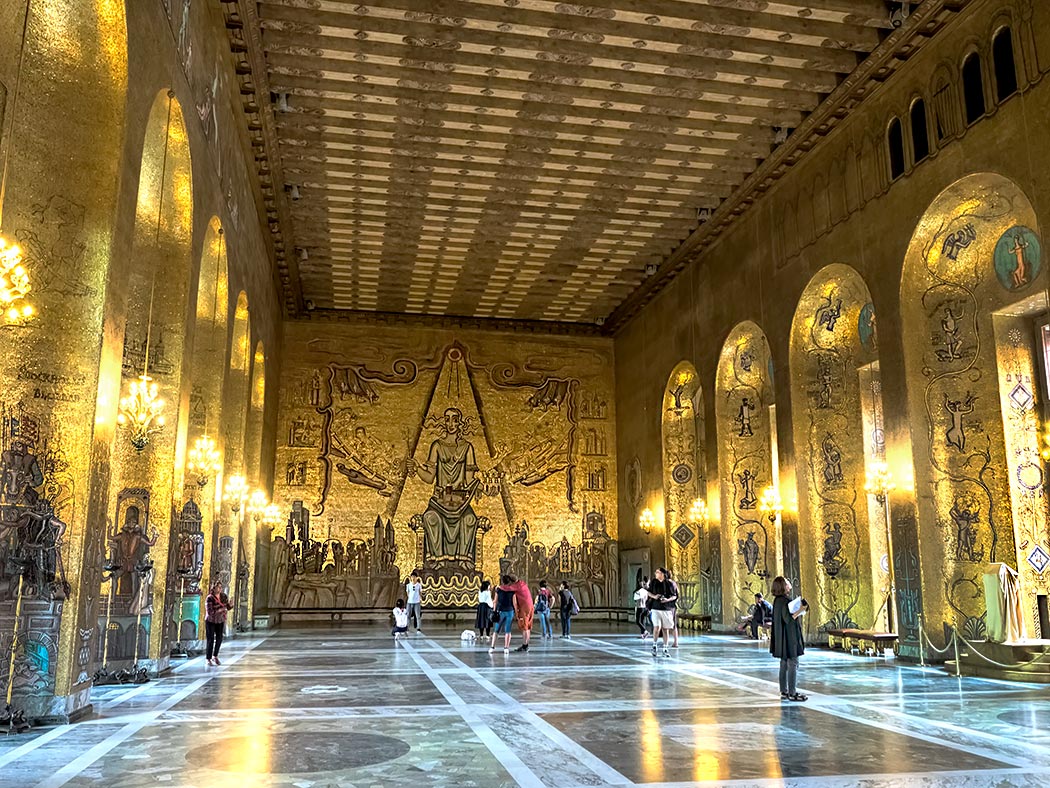 The stunning Golden Hall at Stockholm City Hall is one of the highlights on the tour of the city's municipal center. However, it is just one of many things that make this building so famous. The 348-foot tall structure, built entirely of brick, was completed in 1923. Nearly eight million bricks were used in its construction. The three golden crowns atop the central tower are a reflection of the Swedish Coat of Arms.
Stockholm's City Hall is perhaps best known as the venue for the annual Nobel Prize Ceremonies. The annual event begins in the famous Blue Hall, which houses an organ with 10,270 pipes, the largest in Scandinavia. Following presentation of the Nobel prizes and banquet in the Blue Room, attendees make their way to the Golden Hall for the Nobel Ball. Decorated with more than 18 million glittering gold mosaic tiles, it is the perfect venue for the elegantly dressed and coiffed Nobel Laureates, members of the Royal Family, and guests who are lucky enough to be invited.
The above photo shows the northern wall of the Golden Hall, which depicts the Queen of Lake Mälaren. The southern wall displays scenes from around the Swedish capital, as well as historical motifs. The Golden Hall at Stockholm City Hall is open to the public through guided tours only, which are conducted each day from May through September in Swedish and English. Tours include access to both the Blue Hall and the Golden Hall, as well as the top of the tower, which offers fantastic views over the city.