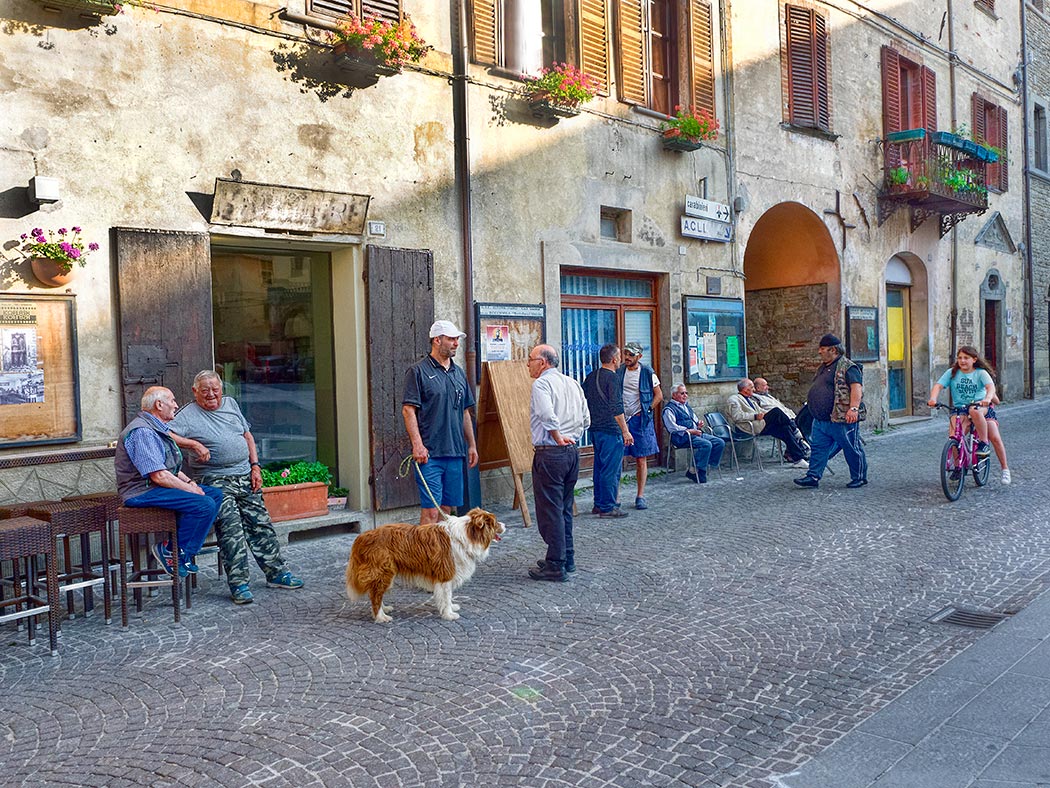 The owners of Palazzo Donati recently invited me to stay at their restored Italian palace in the village of Mercatello sul Metauro, Italy. The tiny commune is located in Le Marche, a lesser-known region in the northeast of Italy. The province has not yet been discovered by tourists, thus residents are absolutely delighted when visitors arrive.
One of our hosted group of travel writers experienced this delight in a most amusing way. Annette White, who writes the popular travel blog Bucket List Journey, was trying to capture a photo of herself perched in front the town's tiny bar on the main piazza of Merctello sul Metauro. But every time she hopped up on a bar stool, older gentlemen rushed out of the bar and surrounded her. They showered her with welcoming words, kissed her on the cheek, or stroked her hair. She never did manage to take that selfie.
We soon discovered that this was not uncommon. Residents gather every evening in the main piazza of Mercatello sul Metauro. Men sit on chairs that line the edge of the brick street and people-watch. Families walk dogs. Young couples stroll hand-in-hand. Women cluster around tables near the mini-market and exchange the day's news. With only 1,300 residents, strangers in Mecatello sul Metauro stick out like a sore thumb. But this was one case where I was happy to be the obvious tourist, because I was made to feel extremely welcome throughout my stay.
Author's note: I was a guest of Palazzo Donati during my stay in the Le Marche region of Italy. However, the receipt and acceptance of complimentary items or services will never influence the content, topics, or posts in this blog. I write the truth, the whole truth, and nothing but the truth.