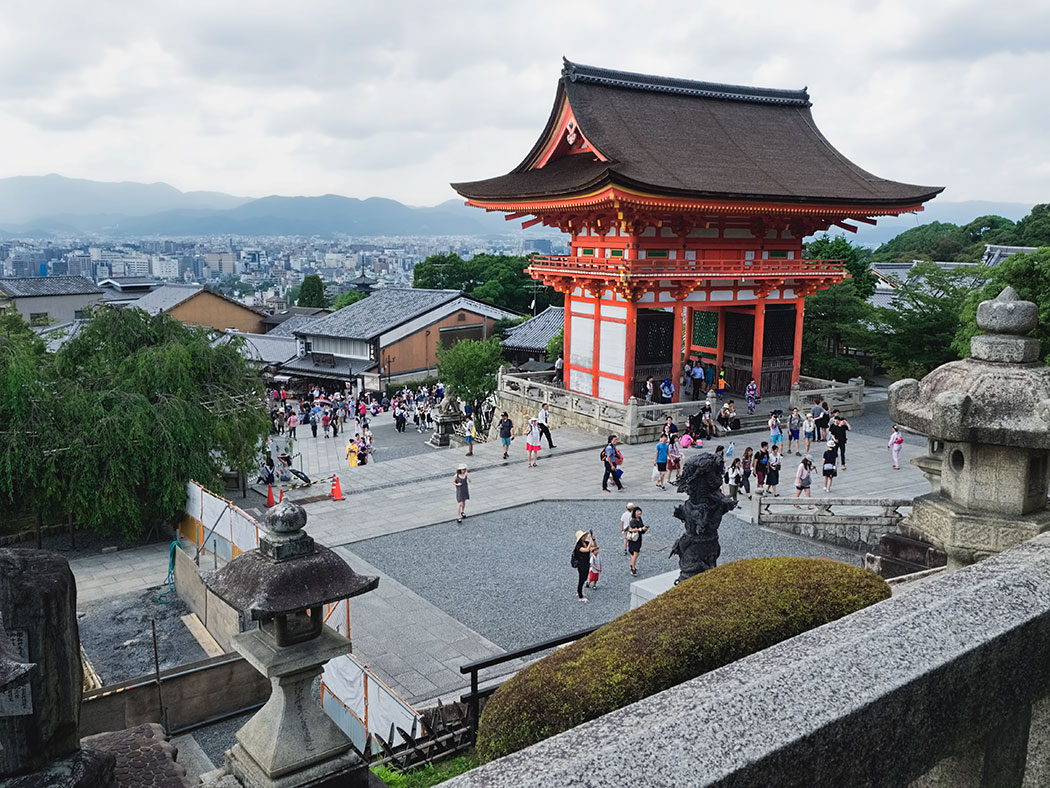 I'd been walking half a day in scorching heat when I arrived at the gorgeous entrance to Kiyomizu-dera Temple in Kyoto, Japan. I looked up the steep steps and questioned whether I really wanted to tackle yet another temple complex. Perhaps the entrance was all I needed to see. In the end, I wiped the sweat off my brow and plodded up the stairs. A bit further on, past several smaller, pretty temples, I rounded a corner and found a ticket office. Again, I considered whether I should just call it a day, but something made me pull out my wallet.
Beyond the ticket window I stepped out onto the broad Kiyomizu Stage, which hangs over the front of the Main Hall of Kiyomizu-dera Temple, and got my first shock. Thick green forest fell away beneath the deck so precipitously that I had difficulty looking down. Far in the distance, a sole vermilion pagoda penetrated the trees. The city of Kyoto was pocketed in a valley to my right. I had no idea I had climbed so high. For the rest of the afternoon, I followed pathways leading down into the verdant valley, stopping at every temple along the way.
When I finally turned around to head back, I got my second shock of the day. From the valley floor I had a clear view of the Main Hall. Hundreds of people stood upon its deck, enjoying the same view that had wowed me earlier in the day. But now I could see beneath the Kiyomizu Stage. It was supported by gargantuan wooden tree trunks, each of which rose more than 40 feet from the foundation. A series of diagonal wooden crossbars, themselves gigantic, provided additional stability. From a distance, the entire structure seemed fragile, like Lincoln Logs waiting to crash down. I was astonished that not only could they hold the weight of the crowd that looked down upon me, but that they had been doing so, day after day, for more than 1,200 years.
Back at the entrance, I had a good laugh when I realized I had very nearly missed seeing one of the most impressive, historic temples in all of Japan. I was so grateful that I had listened to my inner voice and kept on going.