These travel eBooks, written by travel bloggers and other experts, range from informational how-two books to non-fiction memoirs. Prices range from FREE to $219. Please note that, in some cases, I receive a small commission if you purchase the books. Any fees I earn do not impact the price you pay.
A Better Life for Half the Price is for those who want to cut their expenses in half without cutting back and sacrificing. It's for those who want to start getting ahead and living a better life by just changing their address. There are a million people out there living a better life for half or less what they used to spend in the USA, Canada, England, or Australia. They're scattered across value-priced locations stretching from Patagonia to Mexico, from the beaches of Thailand to the mountains of India, from the west coast of Europe to Transylvania. You'll read about couples living an extravagant life for less than $2,000, singles who have cut their expenses from $4,000 to $1,400 while upgrading their apartment, and retirees who are living well on just their social security checks. Instead of cutting back, they're cutting loose instead. Click on the above Amazon link to purchase the paperback for $21.95.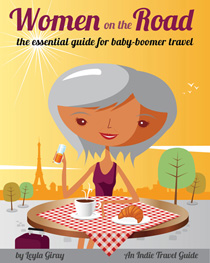 Women on the Road is the answer to all your questions on overseas travel: from planning to packing, and budgeting to bargaining, it's all here. Written by journalist Leyla Gray, Women on the Road will help you take the trip you've always dreamed of. If you've been dreaming of traveling to far-off places – what are you still doing at home? Click on the above Amazon link to purchase this ebook for $5.99.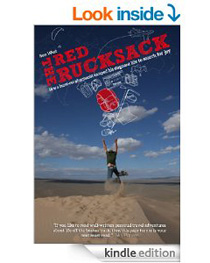 Deeply disillusioned with life, Ben sells his share of a profitable pharmacy, puts his house on the market, and casts off to find happiness. A love of mountains leads him to tackle the Himalayas where he saves an ill-balanced Sherpa before he strikes out to explore the Gobi desert in a rattly, old Russian van. His next stop is South America, where he falls in love with paragliding and one very fetching Danish lawyer. Ben's knack for following remote, rocky paths and befriending the quirky characters on the way, often leads to comical misadventure, but also to moments of wonderment and awe. The journey detailed in The Red Rucksack does not involve meditating with orange-robed monks, burning incense, or banging gongs. Rather, Peruvian bandits, wired Amazonian shamans, wrestling midget bikers, and paintball paragliding insanity all help Ben answer one question: Am I running from my problems or towards a life truly lived? Click on the above Amazon link to purchase the ebook for $2.85, or the paperback version for$15.99.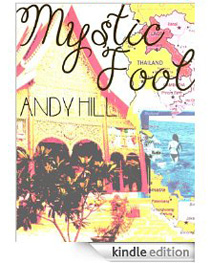 A spirited romp across Southeast Asia, Mystic Fool follows the exploits of a young man, led by alchemy and alcohol, as he explores the inner and outer planes. Beginning in the islands of southern Thailand, he heads to the ancient capital of Siem Reap and up the coast of Vietnam to the chaos of Hanoi. Jettisoned to a farm in northern Laos milking goats, we then find him guzzling rum with a guru in the Golden Triangle, and later in Pai, embracing the mystery. With caution abandoned and destiny swooned, this lyrical jaunt soars and enchants with each bus, train, and tuk tuk ride. Click on the above Amazon link to purchase the ebook for $4.99 or the paperback version for $11.00.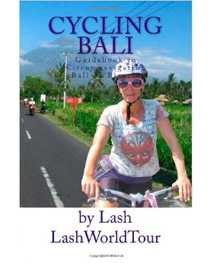 Bali, Indonesia, 'Island of Gods' is renowned for its spectacular and diverse natural scenery encompassing volcanic peaks, steeply terraced rice fields, vast sweeping tropical beaches, dense forests and lush gardens. It's equally famed for its unique Hindu culture and plethora of exquisite visual and performing arts. With the assistance of this book, you can experience the 'real ' Bali away from its over-developed southern tourist trappings. Cycling Bali will guide you on a complete circumnavigation of the island, divided into 15 manageable routes ranging in distance from 25–75 km and varying in difficulty from easy to challenging. You may choose to cycle each segment as one day's ride or combine 2-3 routes in one day, depending on your time frame, fitness level, preferred travel pace and interests. Click on the above Amazon link to purchase the paperback for $15.00.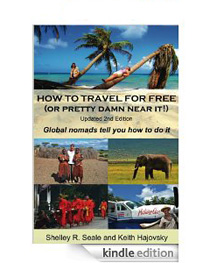 Shelley Seale and Keith Hajovsky are self-professed world nomads, who travel just about any time and place they have the opportunity – usually for free, or very close to it. Between the two of them, they have visited more than 60 countries and logged millions of miles. In How To Travel For Free (or pretty damn near it!), Seale and Hajovsky share their own personal resources and experiences, and have the examples and detailed how-to that backs it up; along with tried-and-true testimonials from other travelers who have used their methods. If you want to learn how to see and experience the world without the need to have or to spend large amounts of money like so many in the travel industry will have you believe, then buy this book now and start your own personal journey toward your dreams of independent travel freedom. Click on the above Amazon link to purchase the ebook for $9.99 or the paperback version for $11.99.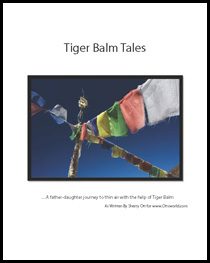 After years of traveling, including a long stint of volunteering in Nepal, Sherry Ott of Ottsworld.com invited her 70+ year old, out-of-shape father to join her on on a trek on the Annapurna Circuit in the Himalaya Mountains of Nepal. This FREE and heartwarming eBook, Tiger Balm Tales, is a great read (as is her blog). She closes with a question: "After 26 days traveling with my father in Nepal, we parted at the Delhi airport. I found myself choking back tears as I gave him a hug and we parted. Why was I, a person who typically travels solo, crying about being solo again?"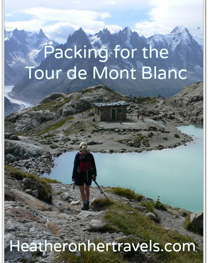 In Packing Guide for the Tour de Mont Blanc, Heather Cowper from Heatheronhertravels.com shares her packing tips for the Tour de Mont Blanc, a 170km high Alpine circuit through France, Switzerland and Italy, around the Mont Blanc Massif. You'll find out what clothing and equipment you need for the walk and overnight stays in mountain refuges, what to leave behind and what will earn its keep in your rucksack. At the end of this FREE travel resource there's a handy packing list. By downloading this guide, you'll also be subscribed Heather's free monthly newsletter that features great travel resources, news, and reader offers, but you can unsubscribe at any time and she'll never share your e-mail.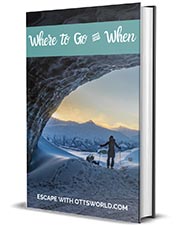 Last but definitely not least is a new ebook from my friend Sherry Ott, publisher of the Ottsworld travel blog. Stuck at home in Colorado for months on end during the COVID pandemic, she put her idle time to good use by writing this book that will give you great ideas for places to visit that that aren't crowded or necessarily well-known. Even better, she sorts it by month, so you'll know the best season to visit the destinations she suggests. But best of all, it's entirely free. To get your copy HERE. Scroll down to the middle of the page and click on the button labeled, "Give me my FREE ebook.
Finally, if you love travel books, be sure to check out the Wordy Traveler quarterly subscription box for travelers. I was so intrigued when I read about this service on Explore Now or Never, which transports recipients to an exotic destination once every three months via a hand-curated and themed selection of travel books. Each box also includes an ethically sourced tea and limited edition art print as well. What could be a better gift for your traveling friends?