Create And Mail Postcards Online Using Your Own Photos
There's a new girl in town – Hazel is her name and postcards are her game. I'm talking about HazelMail.com, the unique new website allows travelers to use their own photos to create and mail postcards online with only a few clicks and an Internet connection. So now if you're on safari in Africa and you've just captured an amazing photo of a pride of lions that you want to be forever immortalized in the form of a postcard, just follow these amazingly simple steps:
Navigate to HazelMail.com and click on the "Picture" tab at the upper right. On the next page, navigate to the location of the photo you want to use on your computer's hard drive and click on the "Upload" button. When your photo shows in the box at the left, click on the "Format Image" button.
On the next page, choose to either "stretch" or "fit" the image, choose a background color if you "fit" the image, rotate if necessary, and select the border you wish to use: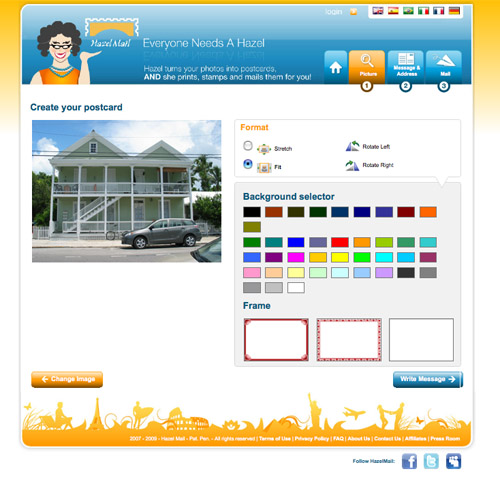 When you are happy with the appearance of the postcard, click on the "Write Message" button. On the next page, enter your message and the names and addresses of the people you wish to send the card to. This page also provides an option to upload an address from your personal address book in a .csv format. Click on the "Add Recipient" button to send the same card to more than one person.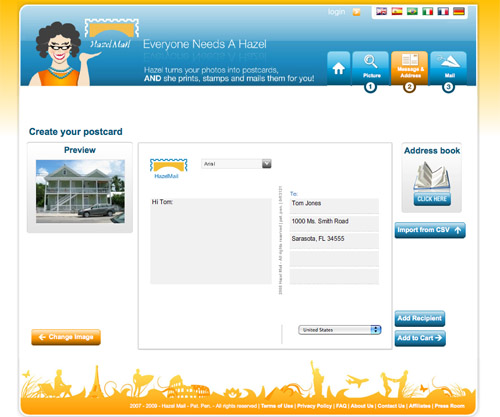 Once all your recipients have been entered, click on the "Add To Cart" button, to review your post card before navigating to the payment page. If everything is satisfactory, check the "I agree with the terms of use" box and click on the "Pay & Mail" button. If you have not already done so, you will be asked to set up a free account at this point. You may also proceed without registering, but registered users get the added benefit of being able to save their address book and photo libraries for future use. The $1.50 per card cost includes printing, stamping, and mailing your postcard, and can be paid through Visa/MasterCard/American Express or PayPal (customers can also purchase pre-paid HazelBucks and lock in a discount price of $1.00 per card). For one price, you can send a card to anyone, anywhere in the world where real mail is delivered.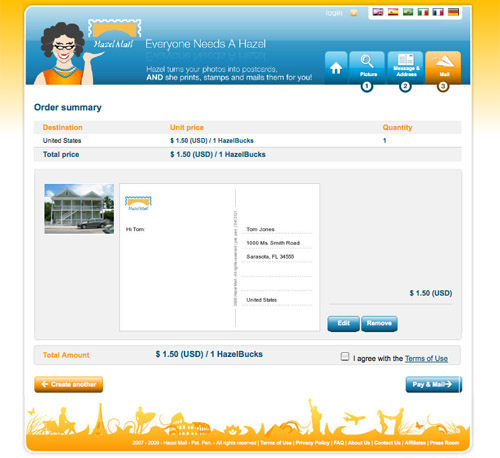 With a global network of printers at its disposal, HazelMail postcard requests are processed, printed, and mailed within two business days. Delivery typically takes 4-7 days from the date ordered, although international delivery may take longer. Using Hazelmail is also Earth-friendly. All HazelMail cards are made from mixed source paper stock (50% recycled, 40% pre-consumer waste, 10% post-consumer waste) and they further reduce their carbon footprint by using only local printers near the recipient's address to reduce emissions produced by air travel.
iPhone users can even download an app that manages the whole process from their phone, although iPhone users are limited to paying with HazelBucks.
There isn' really a Hazel. HazelMail was created by Michael Lato, who was inspired by his mother, Hazel:
"My mother encouraged me from an early age to travel and to share my memories. In fact, I recently discovered that my mom kept every postcard I ever sent to her. Memories are meant to be preserved. Digital photos are ephemeral, but postcards can stick to a refrigerator door for a lifetime. I wanted to create a way for people to take a digital photo and turn it a lasting keepsake the receiver will cherish and a sentiment they will feel for a long time."
Great idea, Michael!