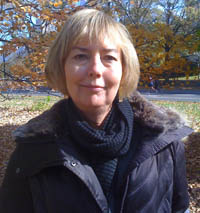 They say that virtual friends aren't real friends, that people we meet online are a poor excuse for face-to-face social interaction. "They" are wrong. I met Ruth Pennebaker online perhaps a year and a half ago. I don't even remember how I discovered her blog but I vividly recall being enamored with her self-deprecating, sugary-sarcastic writing style from the moment I read her first post. Her first adult novel, What Did I Do to Deserve This?, will be published in January 2011; the novel is about three generations of women living under one roof – so you could call it a horror story.
Ruth normally lives in Austin, where she blogs at Geezersisters.com and pens the Urban Cowgirl column for the Texas Observer, does yoga and frets. However, nearly a year ago she and her husband seized an opportunity to live in New York City for a year, which may have just whetted her appetite for travel writing. Although Ruth loves to travel, our styles are completely different. While I'm intrepid, she's meek: "I always, always expect to die, even when I'm just going down the block. Miraculously, I've so far managed to make it in New York for almost a year, but am keeping my fingers crossed." Since she has such a different viewpoint on travel, we thought it might be fun to publish her travel piece about little-visited Albania here on Hole In The Donut Travels. If you'd like to read more from Ruth, visit her blog, Geezersisters.com. So without further ado, here is "Albania and Me," by Ruth Pennebaker.
My heart sank a couple of years ago when I saw the TV footage of one of George W. Bush's recent trips. There he was – being cheered and embraced by a worshipful throng in the capital city of Tirana, Albania.
Oh, great, I thought. Just what I needed: Albania in the international spotlight. Next thing you know, the Bushes will be taking vacations there, basking in the sunlight and adulation, and Albania will be teeming with American tourists.
It wasn't fair. Albania had been our country – my husband's, son's and mine.
No, I hadn't been to China or Bali or Morocco. I wasn't a big-time explorer. I didn't like to rough it or take extreme trips. I was more the cringing, neurotic type.
But hold on, cowboy. I've been to Albania. Have you? No, I didn't think so.
"You can't go to Albania."
"Albania? Are you crazy?"
It was the summer of 1998. My husband, son and I had spent three weeks in southern Italy, where my husband had been a visiting professor. Now, we needed to make our way to Greece for a conference.
Albania was east of Italy, across the Adriatic, and just north of Greece. As the crow flies, it made sense. My husband hated birds, but he'd found his guide for this trip.
The only problem was, every psychologist in Italy seemed intent on talking him out of it.
"Nobody goes to Albania."
The more they objected, the more determined my husband became to go. He's like that.
"Have you ever been to Albania?" my husband asked his detractors. Continue reading →